HEALCARe improves the position of patients in Tanzania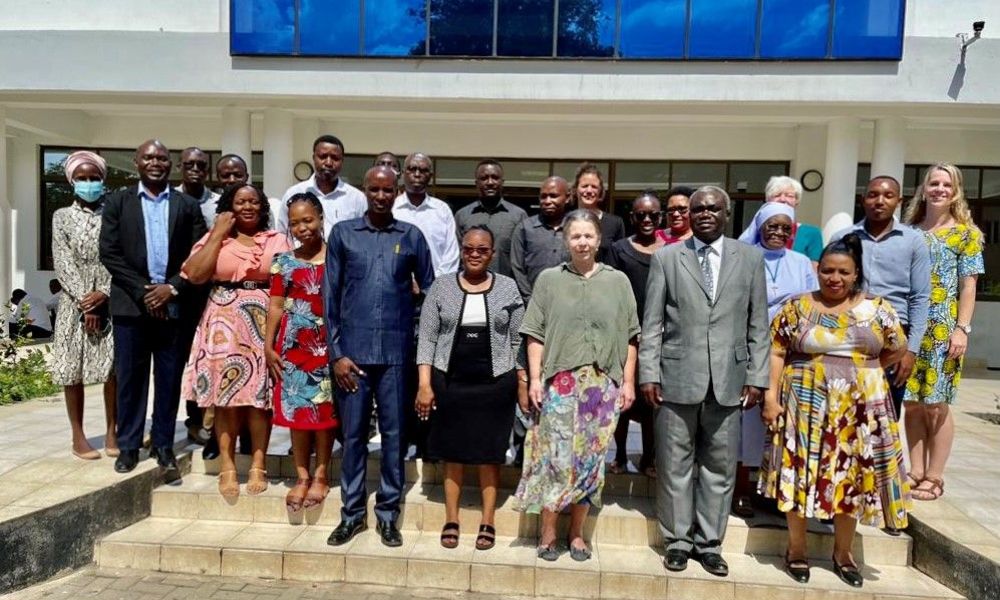 HEALCARe is an Erasmus+ KA2 capacity building project under coordination of the research group Nursing Diagnostics. This project will improve quality of care in health services by revisiting the bachelor nursing curriculum on health literacy-, respectful- and compassionate care competences in the United Republic of Tanzania.
Health literacy competences to improve respectful and compassionate care in Tanzania
The wider objective of this project is to improve the quality of care in the health services. Tanzania has adopted the Patient Charter in which patient rights which include shared decision making, informed consent in order to guarantee proper information for patients.
The national curriculum of bachelor nursing and midwifery is technically sound nowadays, but shows considerable gaps concerning communication and applying respectful care. While competency-focused education is now the standard in higher level and vocational training in Tanzania, it is insufficiently applied. A national revised bachelor curriculum of bachelor nursing and midwifery in which bachelor students apply respectful and compassionate care (RCC) applying health literacy competences will fill this gap. With the expected result that patients will feel respected by nurses and midwives and will get sufficient answers to their health-related questions. This will improve patient- and family centred care and self-management skills of both patient and family to cope with health problems.
Aim
Health literacy competences in nursingand midwifery care improve self-management skills of patients by health professionals giving respectful and compassionate care in health centers in the United Republic of Tanzania.
Research: Nursing Diagnostics
Health Literacy: nursing diagnosis deficient knowledge, ineffective health maintenance.
Project results
1. Revised curriculum for training of Bachelors of Nursing incorporating respectful and compassionate care with a focus on health literacy communication with patients/clients.
The curriculum innovation will affect the whole curriculum, as it will be built on competency-focused learning, and will specifically update or introduce modules about communication, and health literacy communication tools and instruments. Issues such as patient rights and the Patient Charter will get more attention in the curriculum.
2. Improved capacities of university and clinical educators in Bachelor Programmes of Nursing in training nursing students concerning delivering respectful and compassionate care with a focus on health literacy communication with clients.
The project will develop a 'train the trainer'-training for university staff and clinical instructors, which will require a completely different approach towards teaching and training. First of all, competency-focused learning will be an innovation in training methodology. Secondly, training in respectful and compassionate care and health literacy communication is a new approach for many trainers, which may be quite revolutionary and even demanding. It goes against traditions in education and patient provider relations as generally applied. Therefore this will be an important part of the project, especially to make it sustainable, and ensure that new educational staff also follows the new methodology. As mentioned above, the training of trainers fits with the pan by government to innovate teaching methodology (competency-focused training) and content of the curriculum (quality of care and patient rights).
3. Graduates from the Bachelor Programmes of Nursing who are competent in delivering respectful and compassionate care with a focus on health literacy communication with clients.
The students who complete this training will definitely have another set of skills that the nurses who are working in the health sector at the moment have. The new qualifications will be in line with government policies regarding quality of care. The new curriculum will also require new attitudes from young nurses, which may be quite demanding, given the context in which they come to work. They should also learn to work as change agents in the organisations, beyond applying their skills in the contact with patients. There should be enough attention for this element of professional performance in the curriculum.
4. Curriculum elements and training materials for application in other training programmes of healthcare providers in Tanzania.
Eventually, respectful and compassionate care and health literacy communication is needed in all curricula in the health sector. With the lessons learned, curriculum innovation will be worked out for diploma and certificate level. Curriculum elements and modules will be offered to medical schools and other paramedical training programmes for further dissemination and implementation.
In Tanzania it is necessary to monitor the quality of care in general to achieve international standards of healthcare workers. One of the indicators are patients' rights and patient satisfaction which are not implemented in practice. This revised national curriculum, certified 'train the trainer'-training and developed training materials will set the standard for learning outcomes, evaluation and assessment instruments. These instruments can be used to integrate into an instrument for measuring patient-centred care, patient satisfaction of delivered care and self-management skills of patients. And they can be adopted as a quality-measuring instrument to evaluate and rate patient-centred care. Finally, the STAR rating tool will integrate this in a broader measurement. In 2025 the Single National Health Insurance will demand that all institutions have a STAR rating of 4 and higher. Without this rate the institution will not receive a contract from the insurance company and will therefore not be able to operate. This will apply for both government and private institutions in the same way.    
Impact & Valorisation
The project will make a considerable contribution to the objectives of capacity building of higher education in Tanzania.
Curricula
The project will give a boost to the concept of competency-focused education. While the Tanzanian education sector has adopted this approach for health workers training it has mainly remained a theoretical concept. With the expertise from European institutions that have hands-on experience in competency-focused training, proper modules can be developed, and trainers can be trained in this approach to education. The adaptation of modules and development of new modules to introduce respectful and compassionate care and health literacy communication will be an innovation in the contents of education and in using "soft skills" for better patient care and patient satisfaction. It will increase the attention in nursing training curricula for human rights.
Human resources (educators, librarians and administrators)
Educators will be equipped with knowledge and skills for training in a competency-focused way in health literacy competencies and RCC. This will boost their morale and increase their credibility and that of the Universities. They will provide a contribution to the quality of care ambitions of the government and be able to advocate for better adherence to the Patient Charter and patient rights.
The introduction of e-learning combined with face-to-face learning in blended learning is a new way of educating students, that can be implemented in other areas as well.
Students and trainees
Graduates will have competencies for provision of quality care. In particular respectful and compassionate care and health literacy communication will be appropriate for the needs of future care and will be part of the accreditation process that the national health insurance will apply from 2025 onwards.
Referral Hospitals (MNH, Bugando and KCMC)
Hospitals will experience improved quality of care. Hospitals will provide communication and care that will reduce clients' complaints, as incidences of mistreatment will be significantly reduced. Acceptability of the hospital services will be higher and overall quality of care is going to improve, e.g. due to improved adherence to treatment due to better health literacy. Recovery time for the clients will be reduced due to reduced hospital stay.
Clients/patients
The key focus of this project is on human rights, and patient rights in particular. This is per definition an inclusive activity. The care that will be provided embraces the diversity of all patients.
In general this proposal addresses inclusion of all participants, including the disadvantaged, since RCC itself is advocating for non-discrimination to clients. The project will also focus on sensitizing communities to health literacy, in which all community members will be included. Clients gain greater knowledge and skills on how to cope with their health problems or even prevent them. This will empower clients to make their own choices in life and improve healthy ageing.
Government
Confidence in provision of care: confidence among service providers will improve due to skills improvement and better communication. Also, clients will have more confidence in using services when communication is better and their rights are respected. As a whole this will enhance trust of users of the health services provided in the health sector
Cost reduction: There will be reduced treatment cost for the clients as health literacy will enhance preventive measures and reduce prolonged treatment due to better adherence. This will have a long-term effect.
Technical staff at the ministry will be capacitated in overseeing the project planning, implementation, monitoring and evaluation. This will include competency in management and administration to facilitate effective implementation of RCC and health literacy communication.
Exchange among ministerial staff will provide national learning platforms and sharing best practices in leadership and management.
Policy implication
Due to reduced incidences of mistreatment and malpractice, regulatory authorities will reduce cost for enquiries into incidents. The goal of quality care, which is one of the commitments for the government, is going to be addressed.
Sustainability
There will be a sustainable RCC and health literacy practice at hospitals due to skilled service providers enhanced by behavioural change and an improved infrastructure. Due to the trickling-down effect the training of Bachelor level nurses will also benefit their colleagues, once the quality of the work in leading positions in the healthcare system has been improved.
The innovative character of this project is continuity in learning and care on different levels of healthcare services supported by a Centre of Distance Learning of the Ministry of Health. Through the centre e-learning modules will be accessable for nursing and other healthcare professionals in Tanzania. This will improve interprofessional care in complex patient care and patient safety. All training material developed during the project will be available at the Center of Distance Learning of MoHCDGEC as e-module for all health professionals. Universities will develop a training which can be used for continuous learning for health professionals in Tanzania in three regions.
The training programme will directly improve patient-centred nursing and midwifery care. Patients will be involved in care and are able to make their own decisions to cope with health problems.
Using health literacy focused communication skills by (undergraduate) nurses and midwives will lead to a patient-centered care system where patients can move freely along a care pathway, no matter which resource they need at that moment. And where they are treated with respect and dignity (RCC) by health professionals (nurses and midwives). Because nurses are the linking-pin in care, more health professionals will be influenced.
Introduction Project Interview
Dr. Wolter Paans

Lector Verpleegkundige Diagnostiek
Feedback component
Hoe tevreden ben jij met de informatie op deze pagina?