'I am happiest on stage'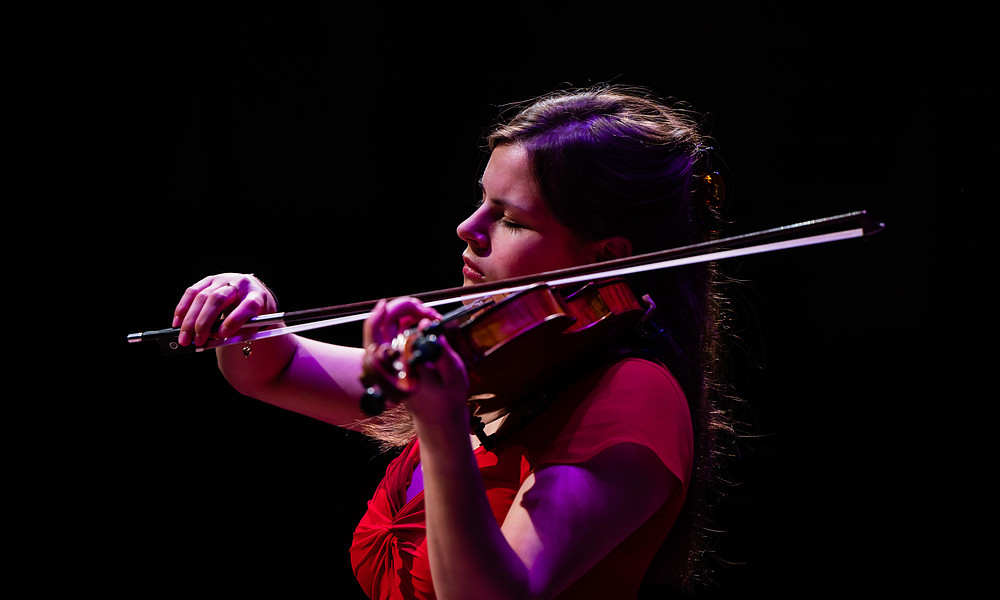 Luna van Leeuwen is a first-year violin student and studies with Veselina Manikova. She is also studying Dutch Law at the University of Groningen. Luna won the Princess Christina Competition in 2022 when she was still in the preparatory programme.
Why is this an important competition?
'The Princess Christina Competition is a national competition for young musicians, for all instruments and different age categories. The competition also acts as a kind of concert agency for the prize winners. I have already received many invitations to concerts and festivals. Otherwise I would never have received it. In addition, you learn a lot from participating in itself, such as working towards a concert, going through the various preliminary rounds and the feedback from the jury.'
What does this award mean to you?
'It's a great honour. I studied very hard for it, so this award gives me great satisfaction. It gives me the opportunity to develop further, to give more concerts and to convey my love for music. Because I'm happiest on stage.'
Why is this prize important to the Hanze?
'I don't know if that is the case. In any case, the Hanze is important to me. I have felt at home at the Prince Claus Conservatoire for a long time. In 2019 I won the Laberté-Hoedemakers Prize during the Peter de Grote Festival (now Aurora Festival). I could never have won the competition without the support and flexibility of my teachers. With two studies my workload is heavy and if I asked to reschedule a lesson to focus on preparing for the competition, it was understood.'
What were the reactions at the Hanze?
'When I came to school after the competition I got a lot of reactions. That was a really nice feeling.'
What does 'Share your talent. Move the world' mean to you?
'Practically, I don't contribute much to the world. I am not a doctor who can make people better. I can share my love for music through my playing and therefore touch people emotionally. When they tell me after a concert that I managed to move them, it makes me very happy. Because that's why I do it, not for the awards.'
Feedback component
How satisfied are you with the information on this page?