Entrance requirements Jazz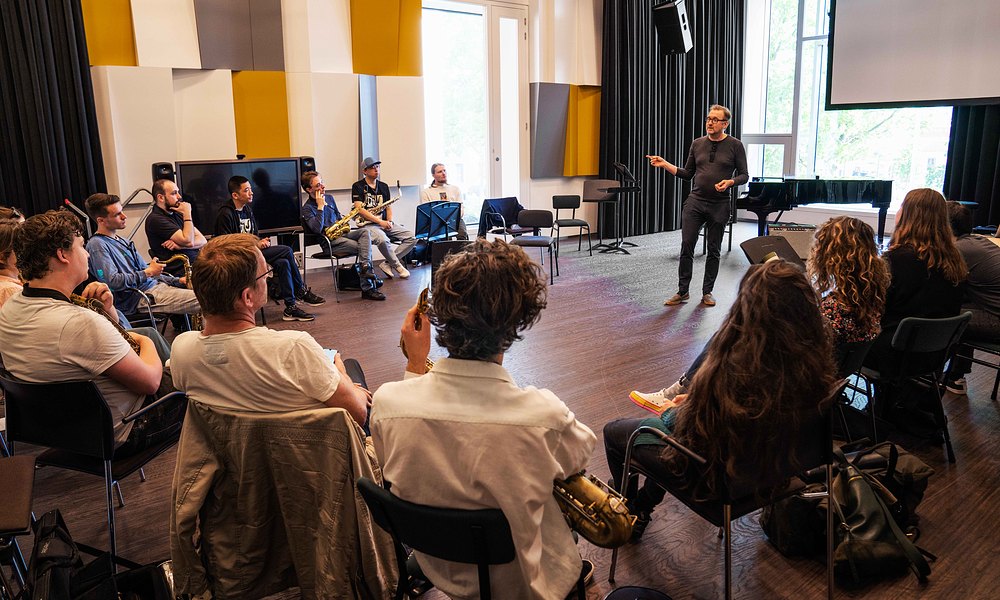 1. Playing or singing 2-3 pieces of the jazz standards repertoire, chosen to show variety in style and tempo. You have to show skills in playing a melody, accompaniment of the other players and improvising (playing solo).
2. It is a bonus if you can play a classical piece as well
3. We advise to also show the committee other musical skills, like playing a second instrument, composing/arranging skills or a self-written composition (not more than 1). In this case bring sheet music of the originals.
4. All non-pianist can be asked to play a few scales and simple chords on the piano
Candidates need to play:
Scales: Ascending and descending, major, minor, melodic minor in all modes
Chords: Ascending and descending triads in major, minor, diminished, augmented and sus-4 and the tetrads major 7, minor 7, dominant 7 and diminished 7.
Playing a prima vista of easy bigband or ensemble parts written in traditional notation and chord symbols
Additional

requirements per instrument
The candidate has to prepare two entirely notated pieces, grade IV/V of Kloppenburg (similar to grade IV/V of the Associated Board of Royal Schools of Music), one of the pieces has to be a two voice Invention of J.S. Bach. The second piece can be chosen from the jazz piano repertoire or from the classic piano repertoire. Some examples:
A piece from "Lee Evans arranges"
A piece from "Jazzparnasz" (no. 20 t/m 30) by Manfred Schmitz
A piece from "Microstyles 4" by Christopher Norton
An etude by Stephen Heller, op. 47
A piece from "Lyrische Stücke" from Edvard Grieg, op. 12
Candidates are expected to demonstrate instrumental proficiency by playing studies from e.g. Lennie Niehaus, (vol. 1a onwards) and the Charly Parker Omnibook.
A classical study chosen from:
Robert Muller, "Technical Studies vol. 3"
J. Rochut/Bordogni, "Melodic Studies vol. 1" or others
Three songs have to be performed in various times and styles. One of below mentioned songs is obligatory:
"My Favorite Things" (Rodgers & Hart)
"Body & Soul" (Heyman/Sour/Eyton/Green)
"I'm Beginning To See The Light" (Ellington) It is possible that you will be asked to improvise on a blues pattern. At least one of the selections should be sung without microphone.
Feedback component
How satisfied are you with the information on this page?
Thanks for your feedback. We will do something with it.