HEALCARe empowers patients in Tanzania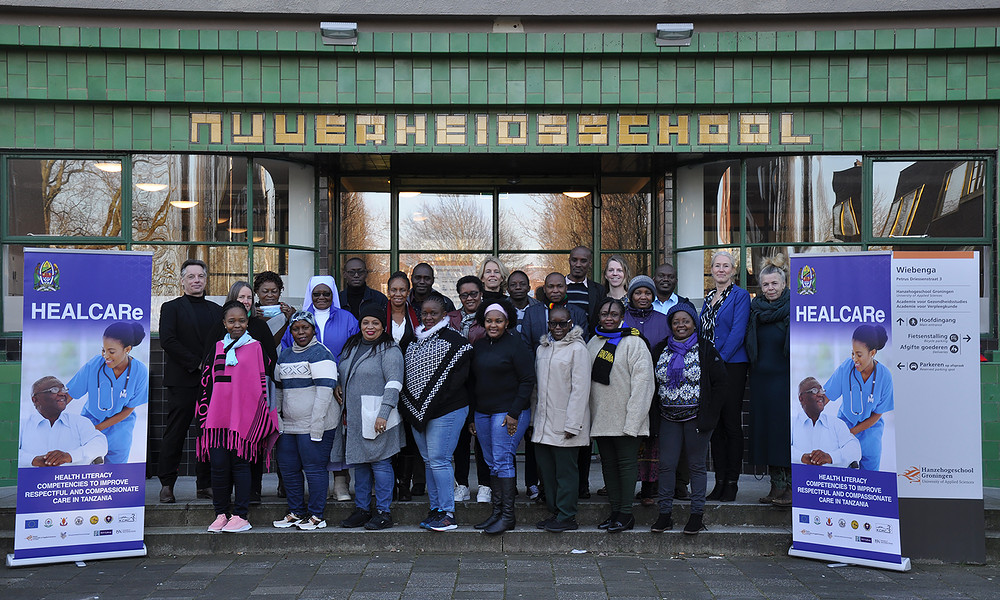 Hospital patients in Tanzania often have no idea what they are suffering from and what their treatment entails. The international project HEALCARe, aims to improve this by developing curriculum for nursing and midwifery students.
Text: Luuk Steemers

'In the Netherlands, patients in hospitals have many questions, but not in Tanzania. They often blindly trust doctors and nurses. There is a great distance between patients on one side and doctors and nurses on the other.' Elanna Veldkamp is project coordinator of the HEALCARe project. 'As a result, patients in a hospital often have no idea what exactly they are suffering from, what the treatment entails or whether aftercare is needed and how long it will all take. This often has adverse effects on healing and recovery. HEALCARe wants to address that situation.'
Humiliating
'What is badly needed is Health Literacy, improving the health literacy of patients through nurses. The nurses must be able to explain the treatment and care and also to verify that their patient has understood correctly. In the process, nurses will coach the patient to deal with their health problems and to prevent them in the future. Respectful and Compassionate Care, as it is called, is needed in this regard. Improving bedside manners. It happens that women in childbirth are struck during labour.... You can imagine how humiliating that is. Of course, there are also very different ways to achieve that, through proper coaching, for example.'
HEALCARe is an acronym for Health Literacy and Respect. The Erasmus+ project, funded with European money, began in January 2021 and runs until January 2024. It involves four European universities and hospitals, including the University Medical Center Groningen and the Hanze University of Applied Sciences. In addition, hospitals and universities in Tanzania are participating in the cities of Dar es Salaam, Mwanza and Moshi. Wolter Paans' professorship in Nursing Diagnostics has the lead role, providing the project leader, joya Smit, but the ultimate control lies with the organizations in Tanzania. There it is determined which cases will be implemented and how.
Learning community
'Meanwhile, all parties have grown together into a real learning community,' says Elanna, who also worked with hospitals and universities in Tanzania in a previous position. 'We first started working to integrate competencies into the current undergraduate curriculum after which teaching materials were developed for students, teachers and work supervisors. In doing so, we worked well with doctors, nurses and teachers in Tanzania. We had a lot of online contact whenever possible, and when necessary we visited each other. This was particularly important for developing good practice cases.'
Patient says nothing
The teaching packages consist largely of role plays based on Tanzanian case studies. In the role-plays, nurses learn to apply theory to patients with low health literacy. 'For example, there is a case with a patient who says nothing. How do you then make sure you come to a treatment and care plan together? In another role-play, a nurse has to talk about an upcoming delivery with a pregnant girl who has come with her mother. This often happens in Tanzania. Such a conversation is often between the mother and the nurse; the pregnant woman herself is not heard. How do you communicate with both of them? There is also a role-play on patient self-management, where nurses learn which questions to ask the patient. In addition, many role plays have a social component. How do you deal with someone who can't pay the bill? How do you treat someone as an equal if they are from a tribe that is lower-ranking than your own? It all comes from the examples that people in Tanzania have come up with themselves. That makes it valuable.'
Changed attitude
The teaching materials have been taught for several months to about a hundred people, nursing department managers and clinical instructors, teachers who train students at three hospitals in Tanzania. After which the teaching materials are offered to nursing students. The next part of the project is a research study of the effectiveness of the teaching materials. 'Do we see a change in the attitudes of future nurses toward their patients? And do the patients experience this? We are doing this within the lectureship, together with the UMCG. The data we generate are collected and analyzed in Tanzania. Professor Jane Rogathi of Kilimanjaro Christian Medical University College is in charge there. The study has been running for a few months now.'
'The third and final component of HEALCARe is to convert the teaching packages into an e-learning module to reach even more people, through accredited education courses for nurses. Assistant Director Saturini Manangwa of the Tanzanian Ministry of Health is leading this effort. Eventually, all hospitals in the country must implement the programme.' The goal is that the quality of care provided by nurses will improve so the patient can participate and feels treated with respect. In this way the patient can participate in preventing or dealing with health problems.
HEALCARe
The Ministry of Health in Tanzania, three Tanzanian higher education institutions (the Kilimanjaro Christian Medical University College in Moshi, the Catholic University of Health and Allied Sciences in Mwanza and Muhimbili University of Health and Allied Sciences in Dar es Salaam) are leading HEALCARe, along with their teaching hospitals. The Tanzanian institutions collaborate with the University of Groningen Medical Center, the Universities of Galway and South-Eastern Norway, and the Hanze University of Applied Sciences in Groningen (particularly the Nursing Diagnostics professorship and the Nursing programme).

Further information
Feedback component
How satisfied are you with the information on this page?