Kick-off anniversary year with charities and spoken word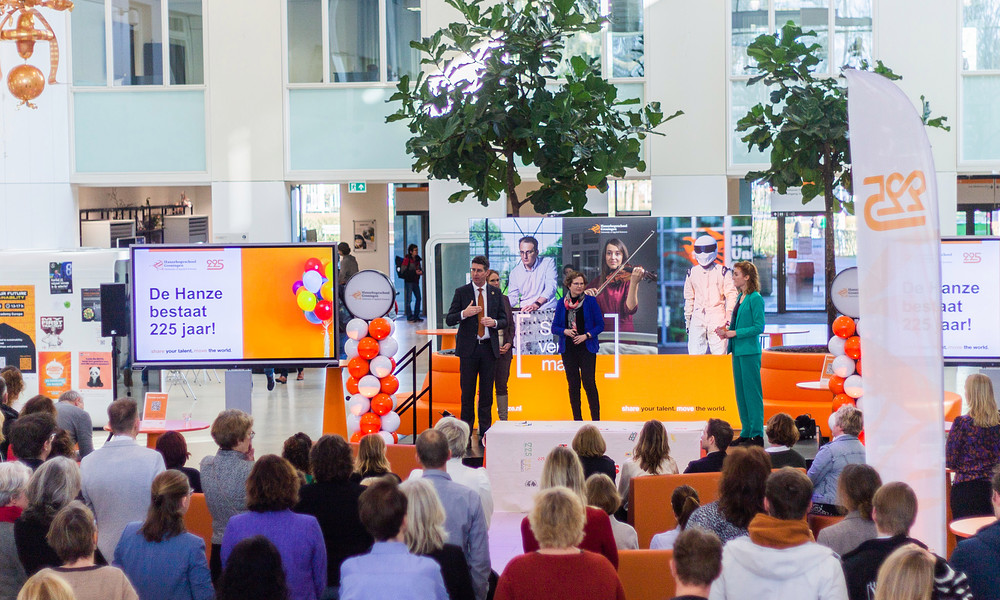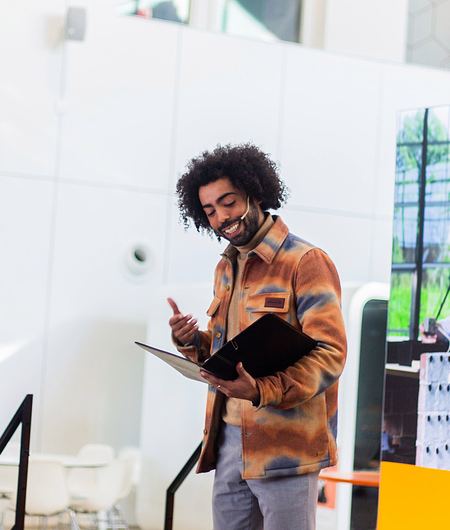 Hanze University of Applied Sciences kicked off its 225th anniversary celebrations on Valentine's Day with the announcement of two charities and a spoken word presentation by city poet Myron Hamming.
Text: Luuk Steemers, photos Myrthe Hoekstra

Tuesday afternoon. It is almost one-thirty. Slowly the space around the stage in the centre section of the Atrium is filling up, a few hundred students and staff. President of the Executive Board Dick Pouwels explains that in 225 years, the Hanze has always focused on the region and on the development of individuals. Dick wants to intensify the intertwining of practice, research and education in the coming years by setting up learning communities. By 2030 it should be there. 'Then people in companies and organizations will work intensively together with students, researchers and teachers to take the region a step further forward.'
Charities
Executive Board member Annemarie Hannink announces that this year's anniversary celebration will coincide with the celebration of 100 years of Wiebenga, the building on Petrus Driessenstraat, which is close to her heart as a former Dean of Nursing. She points to a large screen displaying the anniversary logo. Second-year Academy Minerva Flavia Sandu designed the number 225 in flowing connected lines. "The logo depicts continuity and connection, and our collaboration in learning communities.

Each anniversary year, the connection with people is further emphasized by supporting charities. The third Executive Board member, Petra Smeets, unfolds the causes the Hanze supports during its 225th anniversary: the Uganda Christian University*, which wants to establish a center for entrepreneurship and the Stichting Urgente Noden (SUN), which helps people in financial need with small purchases such as domestic appliances, a passport or a bicycle.
*(Update May 11th 2023: 'UCU School of Business' Incubation Hub no longer an official charity for our anniversary year')
Badges
Saskia Helmantel, speaking at the event, announces a first fundraiser. The three BoE members buy pins with the lustrum logo by scanning a QR code. Dick Pouwels, who has always worn a Sustainable Development Goals pin on his lapel since his arrival, announces that from now on he will pin on the new badge. Saskia encourages students and staff to start their own fundraisers, just like the students who raised money through selling valentine cards today.
Spoken word
City poet Myron Hamming glowingly and rhythmically recites a spoken word for the anniversary. His poem is about 225 years of clinging to dreams: 'A book that I open again years later, a story that tells that out of everything we exist, in which we still dare to believe, and out of everything even through heaviest storms, stayed with us... And so we searched, all these years, for the farthest stars to see, how far we can come.'

The final lines of the poem show that every contribution to bring those distant stars closer is important: 'For, everything we do, that matters: a single stone is enough to make a river flow differently, no contribution that knows guts and love will ever go unseen. And so we see each other, near or O so far, here in this one moment, where the future, always, will remain near.'

The recitation garners much applause, after which it is time for the closing, which is also an announcement of a fundraiser. On a canvass, attendees can draw, sketch or doodle the number 225. Students will make bags from the canvas, which will later be auctioned off.
Feedback component
How satisfied are you with the information on this page?