Professors get lost in transition escape room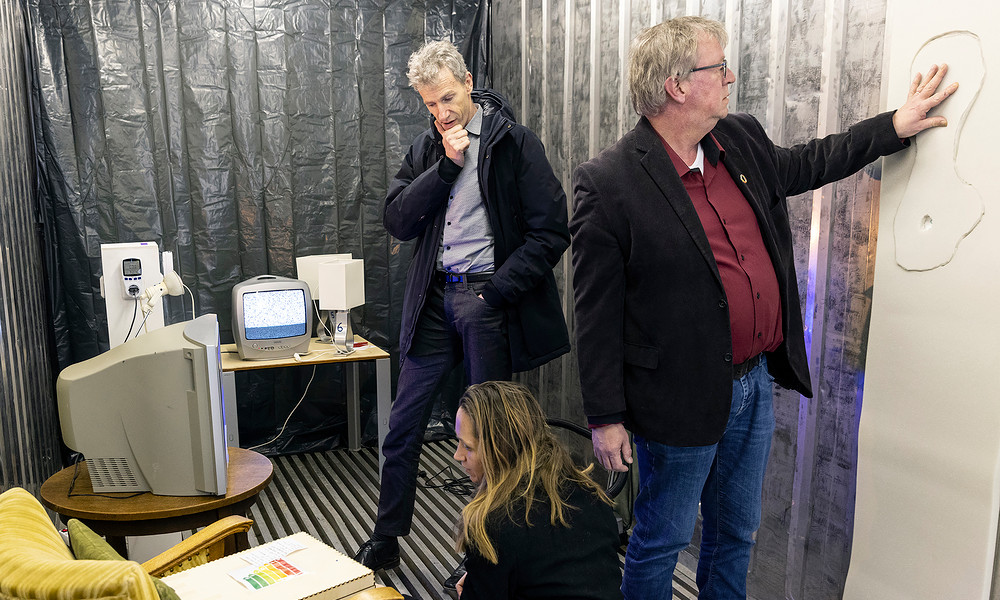 There you have them with their sustainable behaviour. In a chilly, say stone-cold, container. Professors Marten van der Laan (Energy Transition), Wim Elving and Carina Wiekens (both from the professorship Communication, Behaviour & the Sustainable Society). How will they get out of this?
Text: Boudewijn Otten
Photo: Luuk Steemers
A huge catastrophe
Is it possible to get out of this room? That is the question for Tania Ouariachi Peralta, who had students from the master's programme Energy for Society create an escape room (the Hanze-researcher received a Comenius grant from the Ministry of Education to carry out this project).
On Valentine's Day, Marten van der Laan, Wim Elving and Carina Wiekens find themselves in the prototype of this escape room on the grounds of the Energy Transition Centre in Groningen. The three professors have half an hour to solve puzzles, after which they are allowed to leave the imaginary train that is racing towards a massive catastrophe. The thunderous noise in the background keeps the trio on their toes.
In the escape room, they playfully learn what is involved in saving, storing and producing clean energy. The tasks are not easy, even for the three Hanze-professors, who are seasoned in the world of energy transition. They need to figure out which appliances are the most energy-efficient, they need to know which continent the bald eagle flies over and they need to know how to make hydrogen. Meanwhile, they have to figure out which codes will open combination locks.
Sexy
Meanwhile, the train thunders on and on and on. Fortunately, there is Mathieu Przybyla, who occasionally hurls an unmistakable hint into space. Przybyla is the voice-over and pilot in the escape room, but, like Ouariachi, he also keeps an eye on whether and where there are weaknesses in the game. Those do exist, they conclude, but mainly in the design.
Of course, the trio just barely manages to escape in time. Nevertheless, all three get off the container train unscathed. Lecturer Wim Elving is very pleased. 'The energy transition is not sexy', he says, 'but with initiatives like this escape room we can change this. Anything for awareness! I am working on a set-up for an Energy Transition Fair. At that fair, people can playfully learn about various aspects of the energy transition. This game deserves a nice, prominent place over there.'
Want to play our Transition Escape Room? Please do!
The educational escape room on energy transition designed by students from the Master Energy for Society is now open!
This is the introduction you will hear when you enter the room.
It's 2058. Earth has become a dangerous, unpredictable place. The weather is severe and there are only a couple of habitable places left. Yet, people still underestimate what is going on. Your friend works as a scientist on a so-called sustainable mobile universal research facility (SMURF) – a train – and studies samples from around the world to monitor the conditions. Recently, he/she discovered anomalies in the environment you live in, indicating short-term changes in the weather, with lethal consequences. It's now or never: You have to get on that train to get to safety. There's just one little problem: Civilians aren't allowed, so you have to remain hidden and blend in. Good luck and see you on the other side...
Game sessions for Hanze students will take place on Wednesdays at two different time slots: 12.00-13.00 and 13.15-14.15 (meeting point: reception at EnTranCe), during block 3. Sign up here, please.
Any questions about registration, please contact: Mathieu Przybyla. Free entrance, maximum 5 players per game session.

See you at the SMURF!
Feedback component
How satisfied are you with the information on this page?