Minors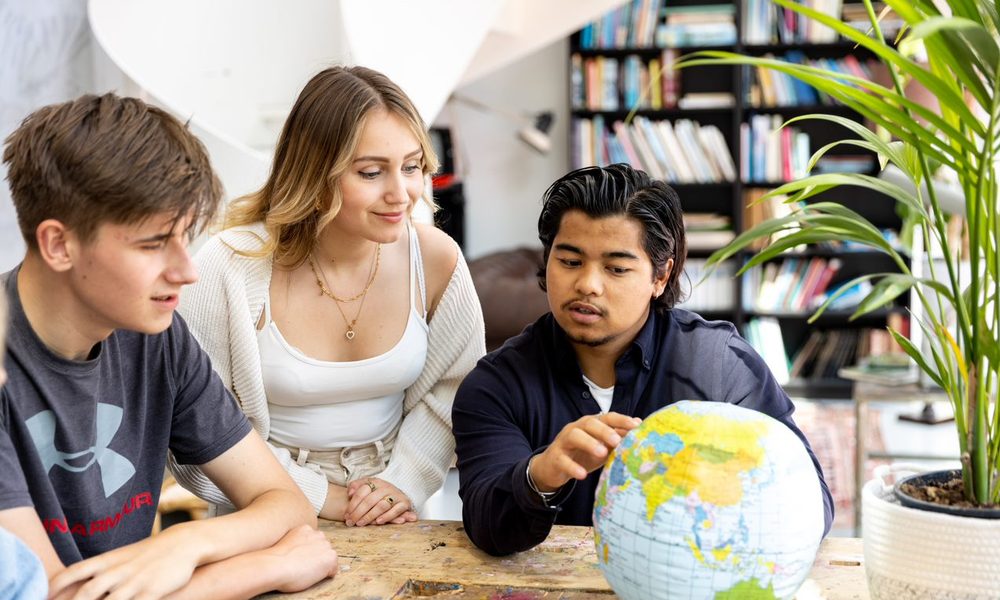 Do you have a broad interest and want to develop your skills within your field? With our extensive range of minors and elective blocks you certainly can. How you do this is up to you. You can choose to deepen your knowledge of a subject by taking on a minor within the School of Communication, Media and IT. But a minor within another school of Hanze UAS or another university at home or abroad is also an option.
Within the School of Communication, Media and IT, you can choose from the following English-taught minors:
AI in your Future Profession
Do you want to prepare for a future in which you will have to deal with AI and data in your profession? Would you like to use the power of data to become a better professional? Will your future job change drastically through the use of data and algorithms? And how can you also ensure that these algorithms are applied fairly and transparently? Artificial intelligence (AI) and data are all around us nowadays; think of the face ID on your phone, the recommendations of Netflix, the advertisements you see on social media and the chatbot of your health insurer. Professionally, you will also undoubtedly come into contact with the impact of AI and data in more or fewer ways. In the minor AI in your Future Profession, you will learn how to collect and visualise data to be able to analyse the impact on (your) future profession.
Brand, Design & Psychology
This programme aims to strengthen the core values and customer journeys of either existing or new brands by exploring, analysing and implementing multimodal-design interventions. Basic cognitive, linguistic and visual theories are used to influence the target group through both written language (copywriting) and cultural texts (image related). Neuroscientific insights applied in consumer testing help to understand the way in which design contributes to building affective brand values. The rapidly advancing field of digital marketing, branding and communication and a fast changing society requires a strong sense of public responsibility from its designers. In the minor Brand, Design & Psychology, you will work in multidisciplinary and international teams and develop branding & communication strategies, set up implementation plans for cross media campaigns, and design or prototype various touchpoints and (interactive) media solutions.
Digital Product Lab
Please note that this minor is only available to HBO-ICT, CMD and exchange students.

During the minor Digital Product Lab, students are going to work in multidisciplinary teams to develop and market a digital / ICT related product. You will work in a team-based group on the agile principles of product development. During this time, you will be supported by your coach and there will be additional workshops on ICT and CMD related topics. The second component that you will get to know is the business component. Questions like 'what is your market?' and 'who is your target group?' will be answered during workshops. Coaching will help you identify and create business opportunities in complex environments under conditions of uncertainty. You will apply this knowledge in a start-up team to a case of your choice.
International Aid & Development
The International Aid & Development minor focuses on preparing students for work in developing countries. In view of the great cultural, social and socio-economic differences, living and working in such countries requires thorough professional and personal preparation and this minor provides it. Multi-disciplinary teamwork is key in the projects that are central to this programme. During the first half of the semester, you will choose and prepare for the project within a small team. You will acquire the necessary knowledge and skills during class sessions. During the second half of the semester, you will be part of a Hanze student team and contribute to a development project abroad (6-8 weeks are mandatory). Past projects have been in Burkina Faso, Ghana, Nicaragua, Tanzania, Myanmar, India, Philippines, Kenya, Gabon and Murmansk. If you are looking for a minor that will enlarge your worldview, force you to think critically about a wide range of issues and that will allow you to have a life-changing overseas experience while making friendships for life, then this is the course for you!
IT Management
Traditionally IT struggles with two goals: on the one hand IT must be stable because we don't want our business performance to be interrupted by taking risks of changes. On the other hand, business and IT must constantly adapt to our changing needs! To meet these conflicting demands, IT organisations have been in a transition from a structured traditional way of working to a new agile way of working in the past decade. Agile, Scrum and DevOps are today's buzzwords in IT management. In the minor IT Management, we try to offer insight in these dynamics of managing IT and provide you with the essential methods and principles to be effective as participant or manager in the world of IT. You will get familiar with the major market standards, learn about Agile governance frameworks as well as management and consultancy skills while working effectively within an international team.
Journalism
During our Journalism minor, you can experience various aspects of journalism: research, verification of sources , finding news, writing different genres of articles, interviewing, planning, filming and editing of (news) videos and podcasts. You will gain an understanding of the main characteristics of the profession of a journalist and the journalist's role within society. Therefore, we expect you to be searching for news and stories at all times while participating in the minor. You can dig up information through research, checking sources and interviewing. In the end, the information has to be processed into an attractive format and you will have to decide which medium fits best: writing, video, podcast, photography and/or visualization of data. You will be working in a group of international students to support each other and give feedback to one another within the group.
Medialism
During your semester in the minor Medialism, you will develop and produce a short film for an external client. Through the use of video, audio and text, you will solve a communication issue for the client. Together with fellow classmates, students will form a production company that will be responsible for the communication surrounding the client's product. You will learn how to present the product as optimally as possible. During the project, all facets of being a production company will be covered, including sponsorship and promotion (media attention). This assignment will be supported by workshops, (theory) lectures and guest lectures, all running parallel to your work in the project. At the end of the semester, you will present your film to the client and a panel of media experts at a special opening night at a cinema.
Smart Energy
The minor Smart Energy allows groups of students to do challenging multidisciplinary projects on the cutting edge of energy and computer science. In addition to lectures on energy and computer science, you will work in small project groups in close cooperation with clients (from the Dutch energy and IT sectors) under the supervision of an experienced lecturer/coach. The projects are always based on current problems/opportunities from the clients and require a certain amount of research and a proactive mind set. The first half of the semester focuses on design science research, software engineering and the societal factors that influence the energy transition. The second half focuses on the business opportunities in energy transition, such as Corporate Social Responsibility or the creation of a business plan, and sustainable technologies such as 'smart' electricity grids.
The Future of Technology & Society
What do you think tomorrow's world will look like? How do you want the future to look? In what way can you actively contribute to this from within your field of expertise? These are the central questions in the minor Future of Technology & Society. There are ways to anticipate and influence the future without having to predict it exactly. This is what we do in this minor. Your creative talents, observations and assumptions will be a starting point to explore and investigate the future, while you conduct research into socially meaningful applications of technology, design thinking, co-creation, future literacy, and rapid prototyping. During the semester you will work within an intercultural and interdisciplinary team on projects related to technology, future and society. In these projects you will design innovative concepts connected to the societal problems of the future. This minor gives you insight into the influence of technology on society and how you can apply this knowledge with Design Thinking to create solutions for future problems. You will learn how to prototype your ideas in a structured fashion and will share the results with an audience during a small symposium.
Apart from the offer of the School of Communication, Media and IT, you can choose from an extensive and varied range of minors within Hanze UAS. Take a look at the total overview here.
Feedback component
How satisfied are you with the information on this page?