'I could share and apply everything I've learned at my Master directly at my workplace and vice versa'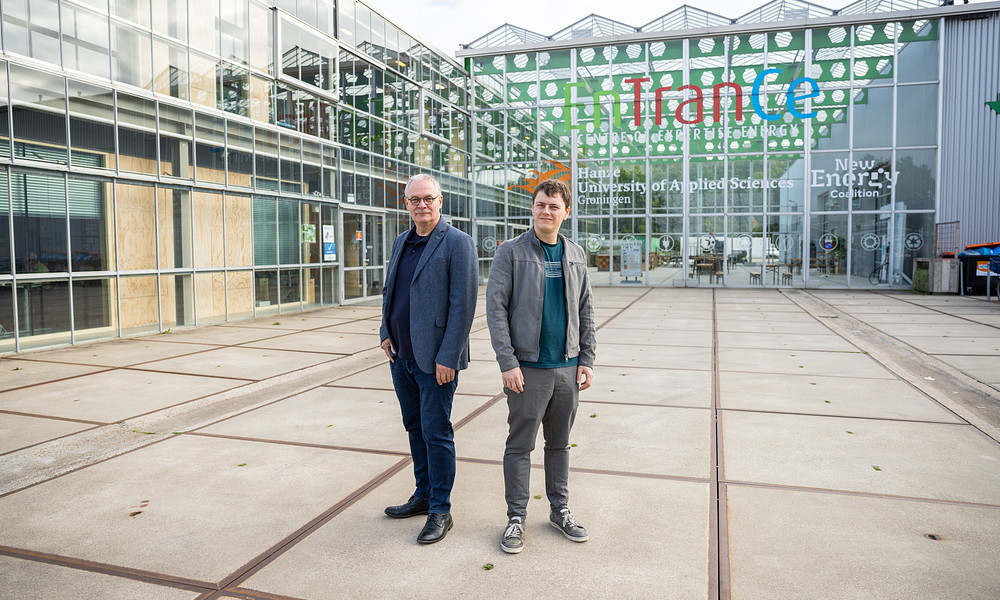 Roy Bonnema is a project coordinator at the design and engineering firm Tandem and an alumnus of the Master Energy for Society. He graduated on the 6-P model of Ron de Vrieze, a lecturer-researcher Built Environment, Master Energy for Society, and leading the urban energy theme at the innovation workplace Entrance at the Hanzehogeschool Groningen, who created this model during his PhD research.
Roy: 'While doing the Master Energy for Society I worked part-time at Tandem. I could learn a lot at Tandem and share this at my Master while I could also share and apply everything I've learned at my Master directly at Tandem. So, that was a great combination.'
'Tandem designs buildings around the end-user, but what they also notice is that it's become more difficult to maintain this way of working. The role of the designer is changing and there are a lot more interests now, so it's difficult to keep the end-user central.'
'At the same time Ron presented his 6-P model research and after learning about it, the directors of Tandem and I concluded that this is the way to make Tandem more futureproof. It enables us to make good assessments between the various interests. So, my research was about how the 6-P model can enhance the current design methodology of Tandem.'
Ron: 'My PhD research was about primary schools and the conflicts of interest in designing schools. There are a lot of different groups with interests. In my research I came to a couple of guidelines which are about the six fractal multi-level system based human needs and how they are related to each other and can be associative related to building construction and sustainability systems. I turned those related findings into practical guidelines to make it more available for practice. My research was especially theoretical and conceptual. It works and I could prove it, but I wanted to do the validation externally and Roy was the person who wanted to do this.'
Roy: 'What I also loved about the Master and what was unique is that people from different backgrounds came together. When you work together in project groups with those people, you really learn more on how complicated the energy transition is. But you also learn how valuable it is to talk about ideas and do projects with people from different backgrounds.'
Ron: 'It's really inspiring to share my knowledge with all the students. Especially the innovation workplace EnTranCe, facilitates to do this. This is where bachelor students, master students and alumni are connected to each other in innovation teams and work together. Sharing my knowledge like this gives me a lot of pleasure and makes me very motivated to share more.'
Roy: 'You should choose Energy for Society if you find energy transition interesting, you want to learn a lot about many different things, you are the type of person who mostly gets the right people in the same room and you try to motivate people.'
Feedback component
How satisfied are you with the information on this page?