Henk Pijlman Innovation Award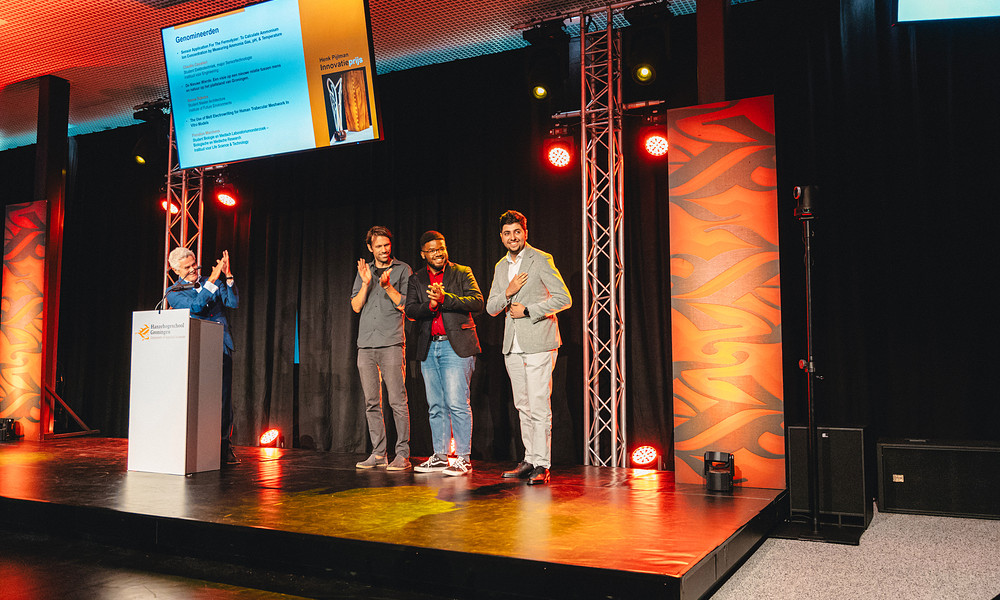 Many students of Hanze UAS deliver outstanding results in the field of social and cultural involvement and innovation. Hanze UAS is proud of these students and has therefore created two student awards: the Henk Pijlman Innovation Award and the Hannie Schaft Award. Every second year the Henk Pijlman Innovation Award is given to a student of Hanze University of Applied Sciences Groningen for a final paper.
This final paper is about practice-based research of a complex problem that was tackled effectively and which has led to an innovative solution for the professional field. The Henk Pijlman Innovation Award is both an honorary prize and a monetary award of 2,000 euros and a unique object, designed by Kim van den Belt (Minerva Art Academy). The winners of the 2nd and 3rd prizes will each receive 500 euros.
Eligible for nomination are assignments completed by Hanze University of Applied Sciences, Groningen students which:
effectively addressed a complex problem with groundbreaking research;
offer an innovative solution for and with the professional field;
demonstrate an interest in the social issues that Hanze UAS aims to address;
are feasible/applicable;
have been written in correct Dutch or English and are well presented;
are logically structured, well-argued and persuasive and
have been awarded a minimum mark of 8 or comparable.
The jury
Dina Boonstra, managing director NV NOM, chair supervisory board Hanze University of Applied Sciences and chair of the jury
Jan Hugo Nuijt, director Staf Office Marketing & Communication, Hanze University of Applied Sciences (with regards to the social mission 'Strengthening a livable en sustainable Netherlands')
Lieke Dalstra, (with regards to the social mission 'Transition to a healthy and active society')
Kuneke Schraagen, Dean of the School of Communicatie, Media & IT (with regards to the social mission 'Digital transformation')
Carlo Ezinga, Directeur Coöperatieve Rabobank (with regards to the social mission 'Energy transition and circularity')
Winner Henk Pijlman Innovation Award 2023
Claudio Cavalieri, student Sensor Technology (Institute of Engineering), focused on the problem of ammonium pollution in agriculture with his thesis 'Sensor Application For The Fermolyzer: To Calculate Ammonium Ion Concentration by Measuring Ammonia Gas, pH, & Temperature'. Regulation of ammonia pollution has led to a deep and protracted conflict between Dutch farmers and the Dutch government. Claudio concentrated on finding efficient and reliable ways to convert ammonia into clean nitrogen and hydrogen – the chemical components of green fuels. Combining advanced mathematics, programming and sensor technology, he created a prototype of the 'Fermolyzer', which measures the amount of ammonia potentially released from the amount of ammonium hydroxide and applies a mathematical formula to calculate the amount of ammonium. In his graduation project, Claudio proposes an applied and alternative approach to resolving the 'nitrogen crisis'. In any event, it represents a very promising start. The content of Claudio's thesis was easy to understand, so that the jury members were actually able to grasp the background of this highly technical work. Of course, this is a very relevant subject and Claudio's work offers significant added value. Although the jury acknowledges that his research is only a small part of a larger whole, it praised Claudio for making a breakthrough and taking a very important first step.
Watch the video below in which Claudio explains more about his research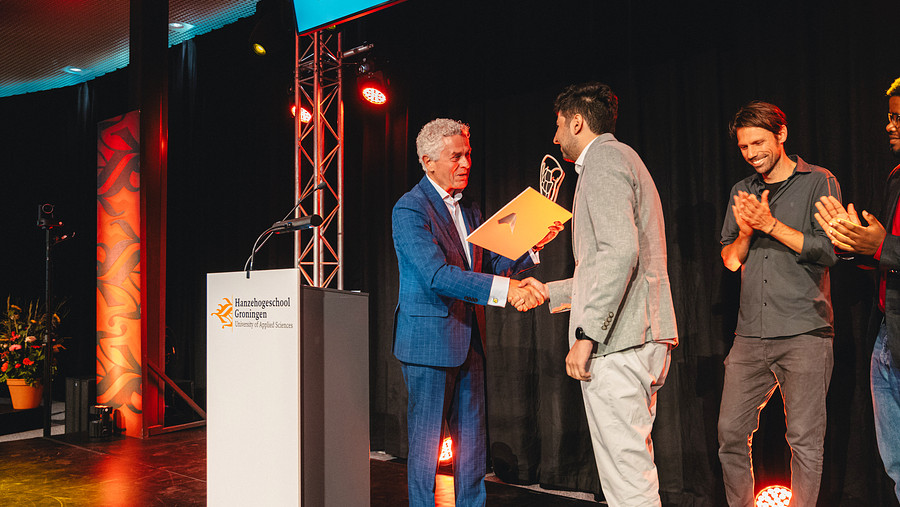 Feedback component
How satisfied are you with the information on this page?