'The best moment? When we discovered that our idea worked'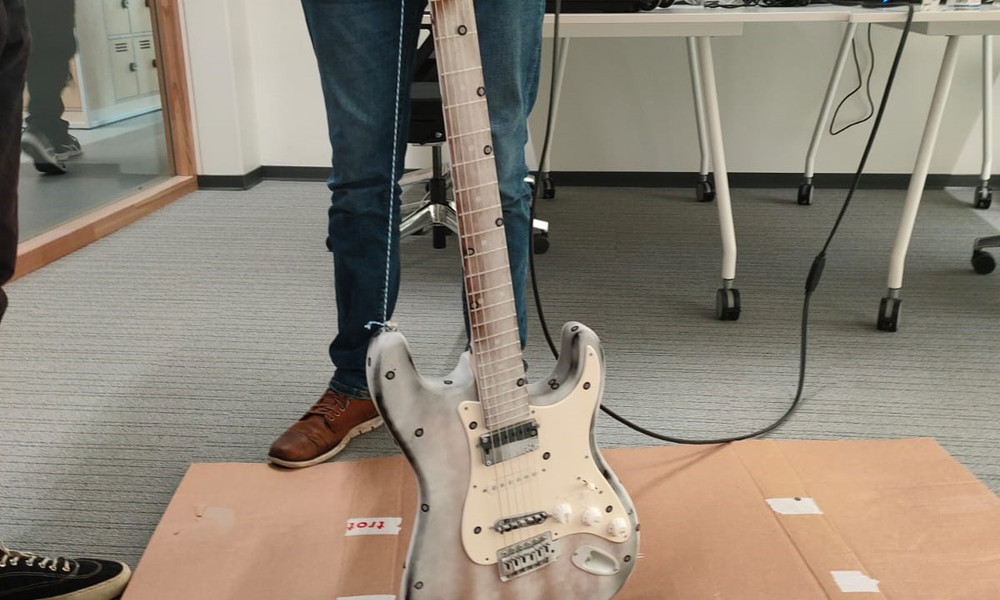 Can you still develop and improve an instrument that has been made and used in the same way for decades? Together with three fellow students, Maurits Medemblik proved that the answer is yes. The Mechatronics students developed an electric guitar that works just a little differently than usual.
'Every semester on this course, you work on a big project. So even in the first semester of my second year, I was assigned an assignment along with three fellow students. The assignment came from a teacher who makes music in his spare time. He was curious if it was possible to change the way the vibrations of the strings are picked up, so that you get an even purer sound.'
'Honestly? When we were assigned this project, we were not immediately excited. We also wondered if we would succeed. Electric guitars have been made for so long and are still getting better and better. So what could we add? Fortunately, our teacher helped us on our way. He mentioned a number of possibilities, all of which we then explored. After a day of testing, one option remained. We went ahead with that.'
'To make a long story short, we bought a guitar and fitted it with some kind of light sensors. We also made the amplification ourselves. The further the project progressed, the more enthusiastic we all became. So enthusiastic that we even extended the project, which we would normally complete in the first semester, into the second semester. In that semester, we fine-tuned the guitar further.'
'It was a hugely educational project. Just in designing the circuit board that we used to amplify the frequencies of the strings, we applied knowledge from as many as four different subjects. So that was one of the most difficult parts. The best part? The moment we discovered that our idea worked. That we struck that guitar and heard sound... then I thought: wow, we did it!'
Feedback component
How satisfied are you with the information on this page?