'I looked on the internet for a sport study programme and Hanze UAS popped up'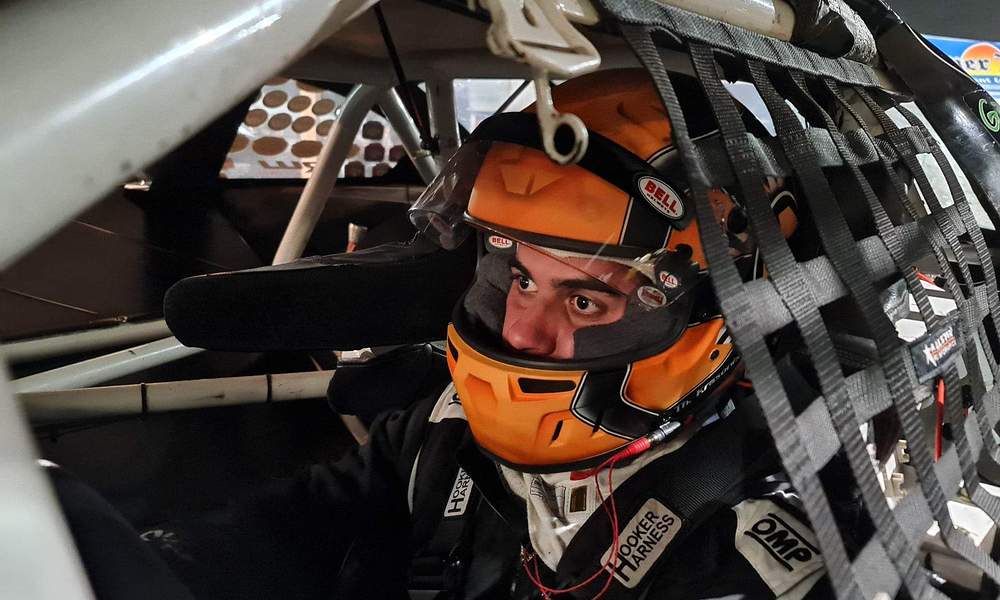 Thomas Krasonis is one of the foreign elite sports students at Hanze University of Applied Sciences, Groningen. 21-year-old Thomas from Athens, Greece is driving in the NASCAR Whelen Euro Series and started to compete in the United States this year also. It will be an important year for Thomas anyway because he hopes to finish Sport Studies at the Hanze.
Thomas began his racing career at the age of five with Karts and started at the age of fourteen driving racing cars in Europe. 'When you start to race, everyone is thinking about Formula 1,' Thomas says. 'But when you grow up, you start to realise it's almost impossible to join F1. I started to look for other options to continue my racing career, together with my family and we got to the point that one of the best was to race in EuroNASCAR.'
'It's very close racing,' Thomas describes EuroNASCAR. 'Contact is allowed so it asks for a different mentality and a different kind of driving than single seaters like Formula 1 and Formula 3. When we are competing, we can touch each other, we can push. It's more like a contact sport. It's very interesting to watch, especially in Europe, because it's a pretty new championship. It's something new for people because they haven't experienced it like traditional sports cars.'
Opportunity to race in the US
Last year Thomas showed his skills in the pro category of the championship in Europe which also gave him the opportunity to race in the US this year. Last February he was in the States for ten days, including three days of racing. 'NASCAR in the US is completely different from other kinds of racing. In Europe we race on normal circuits, in the US you race American style. These types of cars are built to drive on the oval.'
'Now I have the opportunity to search for a contract. I don't see it as a big step. I was waiting for it and I want to go for it. For me it's the next step in the journey. It's more or less a dream coming true. A dream I was waiting for. The goal now is going into the big category of NASCAR, the cup series. Why not?'
Studying at Hanze UAS
Thomas is combining racing NASCAR with Sport Studies at the Hanze. How did he end up at Hanze University of Applied Sciences in Groningen? 'In Greece we don't have a lot of opportunities especially in relation to MOTORSPORTS, mostly because of the unstable economic environment. My father told me: 'You never know what might happen. You need a certificate. Maybe you wake up in the morning and you can't follow your dream and stay in the races.' So I thought: 'okay, I need to study. At least I need a bachelor degree to be able to work somewhere and to have extra knowledge for myself.' So I did some research because this programme was not available in Greece. We don't have anything similar so I looked for an alternative. I looked on the internet for a sports study programme and Hanze UAS popped up.'
'I made a trip to Groningen before I decided to actually go there. I immediately liked the city. For me it was the perfect combination to study and live in Groningen. You can't compare it to Greece. It is much calmer, you can exercise, you can go out and the environment is nice. Before living in Groningen, I lived in Athens all my life. It's a traditionally stressful and difficult city to live in. I don't like it so much.'
Thomas liked Groningen immediately but had to get used to the way of studying at the Hanze, also because he was travelling a lot for his racing. 'In the first three years I stayed in Groningen. In the beginning I failed a lot of courses but last year I made a big effort. The past year was basically remote study because I had followed all the mandatory lessons at the Hanze. I passed almost everything. Only two subjects are remaining. I'm very proud of myself. Hopefully this year I will finish the study completely.'
Internship in Cairo and full racing season
Thomas is now doing his internship in Cairo, the capital city of Egypt. 'I'm doing research for an insurance company. They want to implement insurance policies for elite sports athletes.' Thomas is training four times a week in the gym next to the house where he's staying. 'So that's not a problem but in order to practise with the car, you need the circuits where you are racing. When I want to train in the car, I need to travel. Travelling over and over again all year takes too much time and effort. That's why I went for ten days to the States in February. I cannot go for training, come back and go again for racing.'
This year Thomas will race in the US a few times and will also race in the EuroNASCAR Pro championship again. This will take him to countries like Spain, Italy, Germany and to Belgium where he will race on the circuit of Zolder in October. Thomas: 'This season I have a full schedule. I have twenty races in total. In the summer I will go to the US again for another category. In the US they don't recognise my racing license for the ovals. The ovals are something completely different so I have to upgrade my American license. That's why I'm starting in a smaller category to get points to be able to upgrade my American license and go into the bigger categories with faster cars.'
Former Formula 1 world champion Jacques Villeneuve
Thomas Krasonis learnt a lot from a very famous driver: Jacques Villeneuve, the world champion Formula 1 in 1997. 'Two seasons ago he was my teammate,' Thomas tells. 'I had my first contract with Academy Motor Sport. He was in the pro category and I was in the second category that year. It was very interesting to see a former Formula 1 champion in my box. At first I thought he was visiting but actually he raced so it was very funny to tour around with him. He is very professional. After two or three races, he started to speak to me and gave me some advice. That was a very good experience, to see how a true professional is working. It was incredible just to see him work. How he prepared the car, how he was speaking to the mechanics and what he wanted to change in the set up.'
Feedback component
How satisfied are you with the information on this page?