'I tried to identify what could be done to raise brand awareness in the social domain'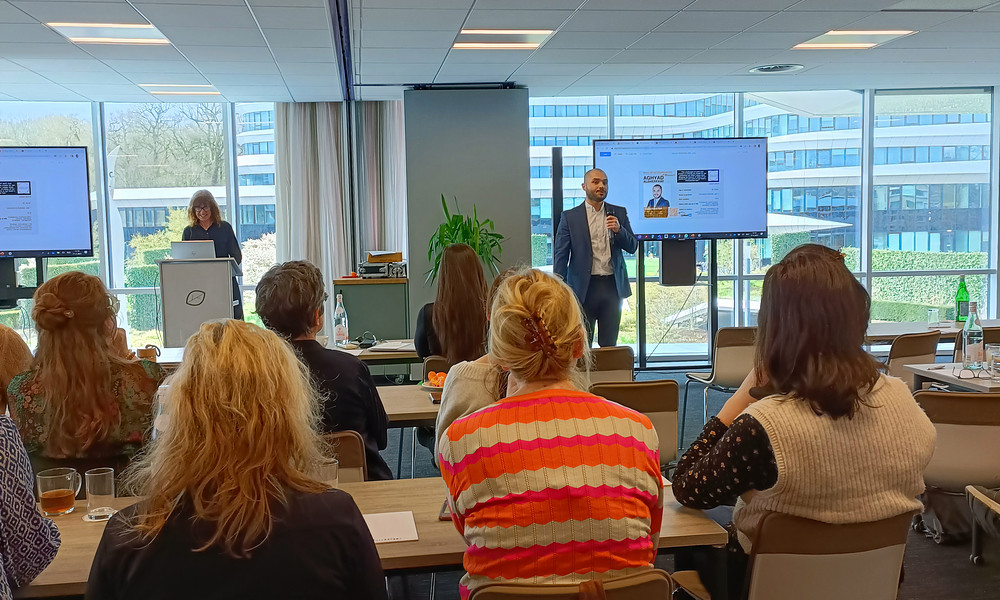 International Business and Management graduate Aghyad AlSherfawi wrote his thesis about raising brand awareness in social enterprises within governmental organisations. He conducted his research from within his own company, Consul-Tech, a training and consulting agency that aims to help asylum permit holders adapt and integrate quickly into Dutch culture and the Dutch labour market.
'We do a lot of work for public authorities, specifically in the social domain. My research focused on identifying what could be done to raise your brand awareness in this environment - the social domain - and in a business-to-government relationship. The answer was that you often need an intermediary to achieve this: someone who can introduce you.'
Third international mindset
'We want Consul-Tech to help empower newcomers to the Netherlands via training and advice. We don't limit our input to one-sided integration, we encourage a two-way process. We bring together newcomers and Dutch people without a migration background and explore culture in general, as well as cultural differences and what they mean. This creates what we call a "third international mindset". We want to connect people at a social and personal level and make a significant difference by doing this. Consul-Tech is also supporting the local economy by training, guiding and coaching newcomers. This helps them build their careers and forge local connections. We do this by actively working with them during the integration process and helping them participate in life in the Netherlands. Our goal is to bridge the gap between newcomers and Dutch society, and to give newcomers the tools they need to have a successful life in the Netherlands.'
A permanent part of the learning community
Froukje Wijma, a lecturer at IBS recounts 'After graduating, Aghyad continued to be involved with IBS. We are a permanent learning community, because learning doesn't stop when someone graduates from one of our programmes. Aghyad's continued involvement includes membership of the IBS Entrepreneurship Community, as part of which students can ask him for advice on starting their own businesses. I met Aghyad when he was sharing his experience of writing the graduation assignment for his own business with IBS lecturers during a team day. It made a real impression on me. He came to the Netherlands just nine years ago, after fleeing Syria. It's really impressive to hear how much he has achieved in such a short space of time. I have a lot of respect for him because it could have worked out very differently for him. I'm really proud that Hanze was able to contribute to his success, and that we were able to make the difference together.'
Feedback component
How satisfied are you with the information on this page?