'I think I got better in communicating my needs and that really helped.'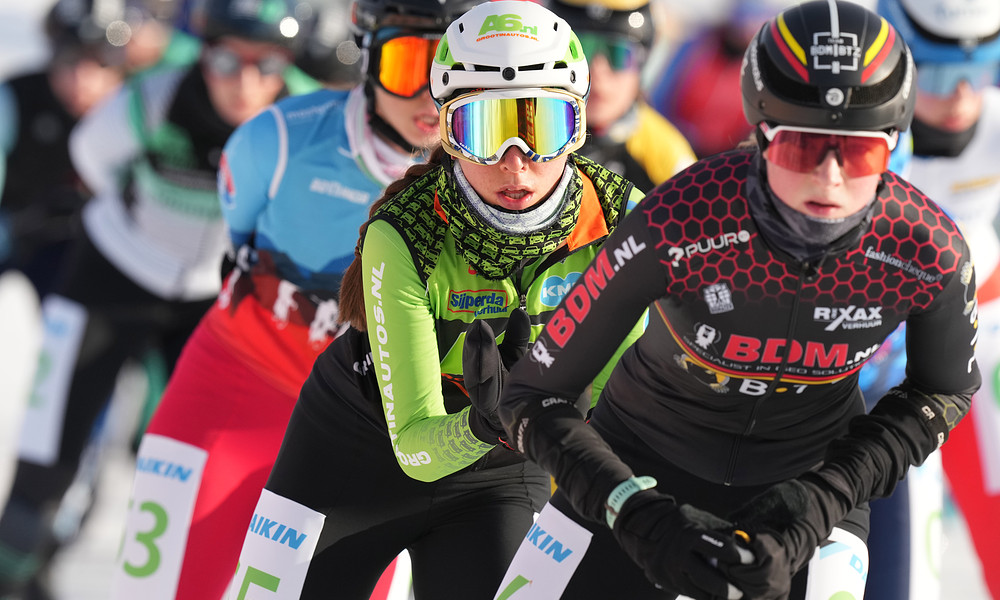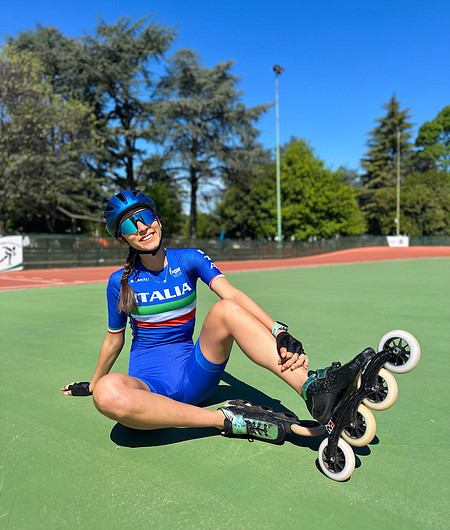 In 2026 the Winter Olympics will be in Milan, Italy. For Laura Lorenzato it will be a dream come true to compete at the Olympics in her home country. Her ice skating career started in 2017 when she was combining ice and inline skating with studying at Hanze University of Applied Sciences, Groningen.
'I really wanted to study abroad and continue my top sports career," tells Laura, who was already a successful inline skater in Italy, about how she ended up at the Hanze UAS in Groningen. 'This combination was difficult to find in many countries because you do not just need the facilities, but also the possibility of a university, So, after analysing the situation around Europe a bit, I realised that The Netherlands was the country that offered me the most opportunities in terms of facilities, study programmes and continuing top sports with ice skating.'
Not very easy at first
Laura was 18 when she started studying Sport Studies at the Hanze University of Applied Sciences, Groningen in 2017. 'I must admit that at first it was not very easy because I was living in Heerenveen, studying in Groningen and I had to travel with the bus every day. That was pretty though. I also came in late, in October, because I had to compete in the inline skating championships in Italy.'
'It was a lot all together. Moving to a new country, starting a new sport, starting at a new university, a lot of travelling and training, meeting new people and no family around. I made new friends but they were living in Groningen while I was living close to Thialf in Heerenveen. It was really hard.'
'There were a few times I doubted whether I had made the right decision. That first year I luckily managed to finish it quite well. In the second year it got better, things started flowing. In the beginning they told me that I could do my bachelor in more than three years but I managed to do all the exams in three years because of the flexibility the professors were giving me. For instance, I could do assignments online. I managed to do a distance exam while I was on training camp in Italy. I think I got better in communicating my needs and that really helped.'
Improvement on the ice
'When I finished my Bachelor at Hanze UAS, I was seeing improvement on the ice so I really wanted to continue living in The Netherlands.' Therefore, Laura did a Pre-Master Marketing Management and Master Marketing Analytics and Data Science at the University of Groningen (UG). At the UG the professors were also very helpful as long as Laura took the initiative to contact them. 'Everyone was really supportive. Italian friends who also combine being a sports athlete with studying are in a completely different situation.'
During her studies at the UG, Laura made huge steps on the ice and managed to get into the top marathon team TeamA6. 'From one month to another I started to get great results,' she says looking back. The study also went according to plan. She finished her Master at the UG successfully early this year.
Everything came together!
'Everything fitted in so well. The week before I had to finish my thesis, I had the national ice speed skating championships and I won, which meant that I got an invitation to get into the Italian national team. Two days later I had to discuss my thesis and I could do that online because I was in Austria to race the alternative Elfstedentocht on the Weissensee. My teammate Sharon Hendriks won. Everything came together!'
'When I look back at how I started aged 18 and how I managed to get through all of this, it ended on a high note with me graduating and getting where I wanted to be with ice speed skating; into the Italian national team which is the first step to my Olympic dream. I'm most proud of the big step I made in ice-skating.'
Great season
'It was a great ice skating season. I started in November, because of the Inline Skating World Championships, I started with marathons right away. It went well from the first marathon. I got fifth place and noticed an improving trend every single weekend. We always ended second or third in the team classification and in some races, we ended first. Personally, I had three fourth places so that was a nice feeling.'
'From next season I will probably join the Italian national ice speed skating team. I will prioritise the training camps with the national team because that's the direction I have to take for the 2026 Olympics in Milan. But whenever I can, I'll be back in The Netherlands to skate marathons. I already have an agreement with my team for next season.' At this time Laura is busy with inline skating. 'We have the European Championships in France in July and my main goal is the World Championships in September in Italy. At the end of September, I will be back on the ice again.'
Feedback component
How satisfied are you with the information on this page?