An attractive route for people who want to be architects.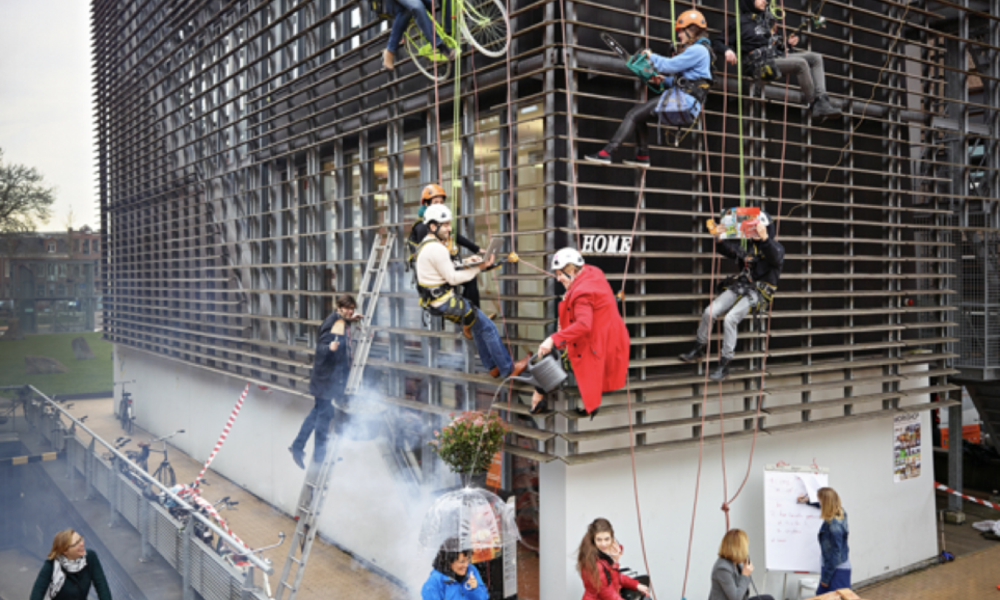 Architecture
Level

master

Form

part-time

Duration

4 years

Language

Dutch, English

Locations

Groningen

Degree

Master of Science

Credits

240 ECTS

Startmonths

Start: September
Arts and Culture

Science and Engineering
Do you aspire to be an architect? An architect who adds value to people's environment with their smart and beautiful designs that leave a lasting legacy. Our master trains architects to be ethically aware and conscious of the impact they have. Our students work with real people to resolve real problems and are not afraid to explore bold and innovative solutions. They use architecture to improve the quality of people's lives and to have a positive influence, now and in the future. With the above in mind, our motto is: act conscious, get dirty, add value.
Projects with impact
During your master's, you will be involved with projects that combine working in research, education and industry. Through applied research you come up with innovative solutions for genuine societal issues. Below, you can find some examples of projects our master's students engage in.
About this programme
The four-year programme is a design master where you will combine your study with working in professional practice. Therefore, after you finish your studies, you can immediately register yourself in the Architects' Register (Architectenregister in Dutch) as you are exempt from the required two-year practice experience.
Course overview
First year
In the first year you will work on your basic design skills, which will involve familiarising yourself with various design methods. You will do this in the so-called design studios, by working on a topical theme with students from other years. We will encourage you to embark on a journey of discovery in your field of interest. In the research studio, you will do field research and we will discuss a number of academic articles.
Second year
The second year will focus on experimentation. In the design studios, you will learn to formulate your own design assignment and test your design methods. You will engage in discussions with users, research materials and immerse yourself in utopias. We will facilitate your growth by throwing you in at the deep end, allowing you to fail and carrying out evaluations together.
Third year
Your studies will become more in-depth in the third year. In the design studios, you will position yourself as a critical thinker. You will challenge yourself by formulating complex design assignments. You take a position as an architect. We will coach you towards becoming the architect that you want to be and that society needs. You will write a paper during the research studio.
Fourth year
The fourth year will focus on your graduation. Everything you learned in the design studios, research studios and from your work in professional practice will come together at this stage. You will work on your qualifying examination and show how you, as an architect, are making a positive impact.
Work in professional practice
Throughout your studies, you will spend a minimum of 20 hours (maximum 32 hours) a week working in a relevant work environment (an architect's firm or related).
After graduation
Graduates of the master's programme will receive the title Master of Science (MSc) and will be able to register in the Dutch Architects' Register (Nederlands Architectenregister). This registration licenses you to work as an architect anywhere in Europe.
General services & facilities
For international students
Admission procedure
The admission starts with your enrolment in Studielink. Below you will find more information about the requirements and admission.
Pre-education
In principle, anyone can apply regardless of pre-education. There are a couple of bachelors in the development line, which are:
HBO-diploma Bachelor Bouwkunde / specialisatie Architectuur (Bachelor Civil Engineering / Specialisation Architecture)
WO-Bachelordiploma differentiatie Architectuur van de Faculteit Bouwkunde van de Technische Universiteit Delft en Eindhoven (Scientific Education Bachelor differentiation Architecture of the Faculty of Architecture and Built Environment of TU Delft and Eindhoven)
HBO-diploma Bachelor of Design in de richting ruimtelijk ontwerpen. (Bachelor Design in the direction Spatial Design)
Prior to the admission interview, prospective students will sit an entrance examination. In the interview, the results of this examination will be discussed. The examination will assess aspects of creativity, technique and empathy. In addition, attention will be paid in the admission interview to a personal portfolio to be brought along.
Non-EEA students have to send their results, CV, motivation and portfolio to [email protected] before the 1st of April. For EEA students this is the 1st of May. For applications after the 1st of May, please send an e-mail to [email protected].
Admission interview
In all cases, an admission interview is part of the admissions procedure. The admission interview is aimed at assessing whether the student has sufficient motivation, knowledge, insight and talent to take the programme at the Academy. During the interview, the results of this examination will be discussed. The examination will assess aspects of creativity, technique and empathy. The student's personal portfolio will also be discussed.
Assignment 1: Design
Design a building that consists of two linked cubes of 3x3x3 m. The way you link the cubes is free, as long as the cube is recognisable. Think of an environment (city, beach, forest, etc.) where you place the cubes. Create a house for yourself by editing the cubes. Present your design on up to two A3 sheets. Draw and visualise everything that is necessary to communicate your idea properly, such as a site plan, floor plans, façades, cross-sections, spatial images, references, materials, etc. If desired, you can add an explanatory text (no more than 200 words).
Assignment 2: Execution and technique
Make a cross-section (scale 1:20) of the most characteristic façade of your cube design and a few principle detail drawings (scale 1:5).
Assignment 3: Theory and empathy
Choose from the list of architects below a (favourite) architect and motivate your choice on the basis of concepts of the architect in his/hers time in the architectural debate and the architectural movement the architect can be counted in. And describe the architectural quality of their work. Process your answers in an essay of max.1000 words.
Lina Bo Bardi
Oscar Niemeyer
Toyo Ito
Carlo Scarpa
Francis Kere
Edwin Lutyens
Sverre Fehn
Kazuyo Sejima
Louis Kahn
Mario Botta
Lacaton Vassal
Work in practice
Master's students are obliged to gain practical experience. A student has to work a minimum of 20 hours and maximum of 32 hours a week in a relevant practice (architect's firm or related).
Work in practice for Non-EEA Students
In general Dutch law does not allow students from outside the European Economic Area (EEA) to work in the Netherlands in regular employment. The Academy of Architecture is an exception to this rule. A limited number of non-EEA students is permitted to have regular employment in the Netherlands for a maximum of 32 hours per week under a number of strict conditions.
Contact
Do you have questions about the application and/or admission? Contact the secretariat of the Academy by calling (050) 595 54 05 or mail [email protected].
Angelique van Werd

Programme manager
Where will you be studying?