'With SESyM I can really make an impact'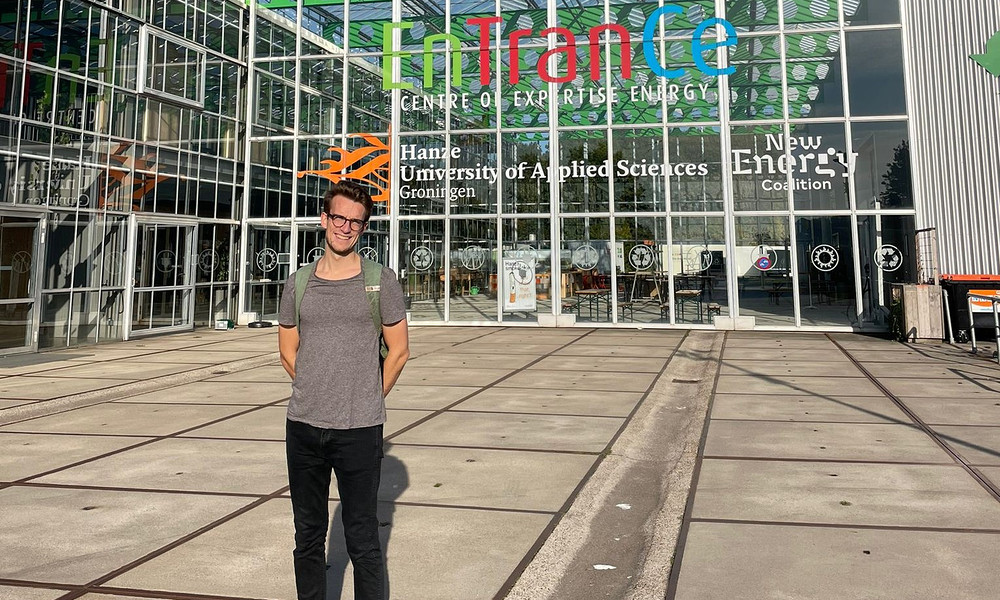 After completing his bachelor in Business Administration, Lars de Jonge first worked at a recruitment organisation and after that at an energy supplier, focussing on business-to-business. Here he got the idea that he wanted to specialise in renewable energy and sustainability, to make a positive impact. Therefore, he quit his job and started the Master's Sustainable Energy System Management (SESYM). One of the projects during the study focussed on how to make a village's heating system renewable.
'I found that at the energy company the emphasis was mainly on commerce. Then I thought, I actually want to do something where I can really make an impact. Something where I can add value to make the world a bit better. Maybe a bit idealistic, but that's why I started this master's programme. SESYM appeals to me because I find the energy world super interesting and relevant, especially from the point of view of renewable energy.'
'The nice thing about the assignment within the Business Ecosystem Design module is that we had to work on actually existing projects. This master's is genuinely applied science. In this project, that was so apparent for the first time, because it was a real village with existing stakeholders. And we were dealing with real energy cooperatives. We had to do project management as a group of five. And we also went to those villages to see what has already been developed and where the project should be realised. The applied aspect of this project made it very interesting.'
'It also felt a bit like we were real consultants. Our job was to determine what information we needed, set an agenda, make presentations, do good expectation management, frame the project and indicate what was realistic in the time we had. That project management piece was very relevant.'
'On the other hand, working with all these different parties meant you had to communicate well. But it also ensured that you got all kinds of interesting input from different perspectives and from different specialisms, which ultimately was beneficial in terms of quality for the final report.'
'For me, that is really the added value of a master's at a University of Applied Sciences. Instead of a master's where you mostly focus on literature research and scientific theories, here you actually apply the knowledge in real life. Of course, literature research is part of the study; central during the last part of the study where you will write your thesis. But projects like this makes this programme distinctive and valuable.'
'This project has also given me a better idea of what I want to do after this master's degree. I did have the idea from the start that I wanted to do something in project management or business development. I have now been able to develop skills in this. This project confirmed my interest in this field and I look forward to further develop my skills after this master's programme.'
Feedback component
How satisfied are you with the information on this page?