Bioinformatics for the Life Sciences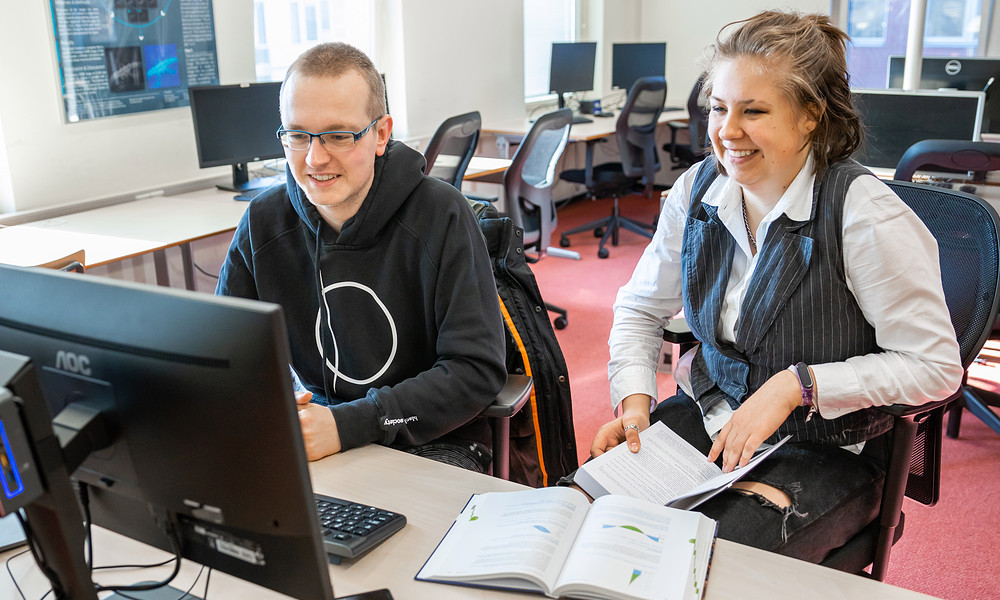 Bioinformatics for the Life Sciences
Level

Minor

Language

English

Credits

30 ECTS

Startmonths

Start: February

Locations

Groningen
Exact and Information Sciences

Sports and Health

Environment
Does a career in Life Sciences appeal to you? Do you want to strengthen the digital skills that are relevant to your research and profession as a Life Science student? This is your chance! The minor Bioinformatics for The Life Sciences starts in February. This programme is also available as an exchange semester.
Properties
Credits: 30
Language: English
Location: Groningen
Startdate: February 2024
About this minor
The programme Bioinformatics for the Life Sciences is open to students from Hanze UAS, students from other universities or universities of applied sciences in the Netherlands and students from abroad.
The programme focuses on acquiring and developing the digitals skills which professionals in the Life Sciences need to handle large amounts of data and solve problems in modern Biomedical Sciences. You will explore the digital toolbox of Bioinformatics and learn about genome sequencing, data processing, analysis and visualisation, database technology and the basics of programming.
In several projects, you will learn to use these tools, for instance to analyse the DNA of a patient with the intention to identify genomic variants that most likely cause certain diseases. You will learn the programming language R to explore the domain of digital experimentation and analyse genome-wide gene expression determined through RNA sequencing. After this programme, you will know everything you need to process data independently on a basic level.
We offer you
One semester of the Applied Bachelor Study Biology & Medical Laboratory Research fully taught in English by experienced lecturers in the field of Bioinformatics.
Theoretical and project work in the fields of diagnostic genome analysis and transcriptomics.
A toolbox of Bioinformatics which gives you the basic skills to handle large amounts of data to solve problems in modern Biomedical Sciences.
Participation in an international atmosphere, consisting of students from different countries and cultural backgrounds, including the Netherlands.
Module Overview
Term 1

Diagnostic genome analysis

5 ECTS, Course code: BFVH15DIAGN

Term 1

Linux

3 ECTS, Course code: BFV17LINUX By themselves, data have little or no information content. Only by placing a datum in a certain context, or by combining it with other data, can information be generated. In the stone age of information sciences, data were stored in files, which reflected the required information. Due to its dependence on inflexible file structures, this approach proved to be quite cumbersome to work with. When relational databases were invented, which allow researchers to flexibly recombine data, they became the de facto standard to the extent that the term 'database' often is used as a synonym for 'relational database'. In this course basic usage of SQL, the programming language used to access and manipulate relational databases, will be explained.

Tern 1

Theory of bioinformatics 1

3 ECTS, Course code: BFVH15THBINEN1 Bioinformatics is built on two great assumptions: that evolutionary relationships between proteins will show up in the DNA sequence coding for them, and that you can use these relationships in bulk to predict the likelihood that any two or more novel sequences are related. These two assumptions allow you to create alignments between wildly different DNA and protein sequences which allow you to compare them base by base or amino-acid by amino-acid with statistical confidence. From these alignments you can then infer whether mutations have occurred which affect the function of the protein in some way. Because Next Generation Sequencing produces such large amounts of data, new alignment methods have been developed which trade accuracy for speed. This course will introduce both the theory and practice of sequence alignment for inferring function, aligning reads from NGS and using these alignments to draw biological conclusions.

Tern 1

Data analysis and visualization using R 1

3 ECTS, Course code: BFVH19DAVUR1

Tern 1

Dutch Culture and Language (only for exchange students)

1 ECTS, Course code: LSTX16DCL1

Term 1

Academic Counselling (only for Hanze-students)

1 ECTS

Term 2

Capstone project: Analysis of gene expression

8 ECTS, Course code: BFVH15CAPSTONE During this project you will work on a project around the analysis of gene expression.

Term 2

Data analysis and visualization using R 2

4 ECTS, Course code: BFVH19DAVUR2 In this course, you will learn to combine R flow control elements and functions into a well-designed and readable script, and apply basis statistical tests and interpret them. Furthermore, you will learn to work with several data packages and perform an Exploratory Data Analysis (EDA) on a given dataset.

Term 2

Theory of bioinformatics 2

3 ECTS, Course code: BFVH15THBIN2
Admission & application
This minor programme is available for students from the Hanze University of Applied sciences, students from other universities or universities of applied sciences in the Netherlands and exchange students. Below you find more information about each procedure.
Hanze-students

Biology and Medical Laboratory Research (both majors)

This minor is available for everyone from the Biology and Medical Laboratory Research programme who has aquired 60 EC from the propaedeutic phase and 48 EC from the main phase. You can sign up via Osiris, up to 4 weeks before the start of the minor.

Exchange students

Life Sciences

To enter this exchange semester, you must have completed two or three years of a bachelor's programme in the field of life sciences, and have a basic knowledge of genetics, cel biology and statistics. We also require a CEFR level of B2 or higher. You can apply for this exchange semester via our International Office, more information can be found on the Exchange Application page (see contact tab for a direct link).

Students in the Netherlands

Biomedical programmes

Third year students from a program in biomedical sciences from another university or university of applied sciences can apply for this minor via the website Kies op Maat: www.kiesopmaat.nl.
Feedback component
How satisfied are you with the information on this page?