Renewable Energy, Materials and Processing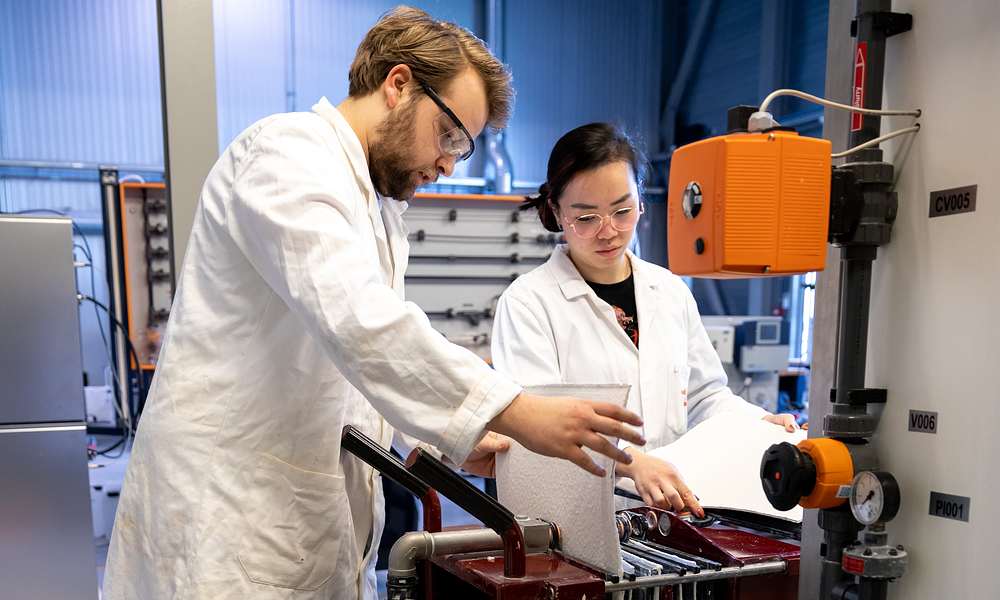 Renewable Energy, Materials and Processing
Level

Minor

Language

English

Credits

30 ECTS

Startmonths

Start: September

Locations

Groningen
Science and Engineering

Exact and Information Sciences

Environment
Does a career in renewable energy appeal to you? Would you like to apply chemical engineering to the improvement of rapidly expanding green technologies such as biomass digester and biogas upgrading systems? Then the minor Renewable Energy, Materials and Processing is the right choice for you! This programme is also available as an exchange semester.
Properties
Credits: 30
Language: English
Location: Groningen
Startdate: September 2023
About this minor
The Renewable Energy, Materials and Processing programme is open to students from Hanze UAS and students from abroad.
The programme covers various aspects of renewable energy. The main focus is on biogas production, and together with your fellow students you will work on projects in this field. In the previous years, students worked on, for example, evaluating and optimising a Swill (restaurant waste) digester or on a biogas upgrading process based on a gas absorption in pressurised water. These projects are set up in cooperation with leading institutes and companies, which will give you a good insight into the work field. The project groups will be of mixed internationalities and backgrounds, mimicing the situation of a Engineering company working for a client.
During two theoretical modules focussed on Chemical Engineering you will learn competencies like development and consultancy that are directly applicable to your project. An overview of the different modules can be found below.
We offer you
A semester chemical engineering, fully taught in English by experienced lecturers in chemical engineering and bioprocess technology
Theoretical courses and project work in the field of renewable energy, materials and processing
Projects carried out in cooperation with companies and institutes that are leading in the field
Participation in an international atmosphere, consisting of students from different countries and cultural backgrounds, including The Netherlands
Module Overview
Term 1

Analysis of Complex Systems

4 ECTS, Course code: CTVH2ACS Numerical integration Systems Software tools (Excel, SPSS, MathCad) Multivariate data analysis (ANOVA) Tips and tricks of modelling

Term 1

Renewable Energy, Materials and Processing 1

11 ECTS Course code: CTVH2THD13 Project Renewable Energy Kick-off Project plan preparation Peer to peer evaluation Presentation

Term 1

Introduction & Academic Counseling (only for Hanze-students)

1 ECTS, Course code: CTVH2IAC

Term 2

Dutch Culture and Language (only for exchange students)

1 ECTS, Course code: ICTX8DCL1 Dutch language and culture Intercultural communication

Term 2

Bioproces Engineering

3 ECTS, Course code: CTV21BIOPROCESS Different aspects of Bioprocess Engineering

Term 2

Renewable Energy, Materials and Processing 2

11 ECTS, Course code: CTVH2THD14 Project execution Final report Final presentation
Admission & application
This minor programme is available for students from the Hanze University of Applied sciences, students from other universities or universities of applied sciences in the Netherlands and exchange students. Below you find more information about each procedure.
Hanze-students

Chemical Engineering

This minor is available for everyone from the Chemical Engineering programme who has aquired 60 EC from the propaedeutic phase, and passed the practical courses from themes 1 to 8. You can sign up via Osiris, up to 4 weeks before the start of the minor.

Exchange students

Chemical Engineering or Bioprocess Technology

To enter this exchange minor, you must have completed two or three years of a bachelor's programme in the field of Chemical Engineering or Bioprocess Technology. We also require a CEFR level of B2 or higher. You can apply for this exchange semester via our International Office, more information can be found on the Exchange Application page (see contact tab for a direct link).

Students in the Netherlands

Chemical Engineering

Students Chemical Engineering from another university or university of applied sciences can apply for this minor via the website Kies op Maat: www.kiesopmaat.nl.
Pascal Peters

Programme Manager Internationalisation and coordinator Exchange
Feedback component
How satisfied are you with the information on this page?