'We wanted to find the genes that are responsible for diseases'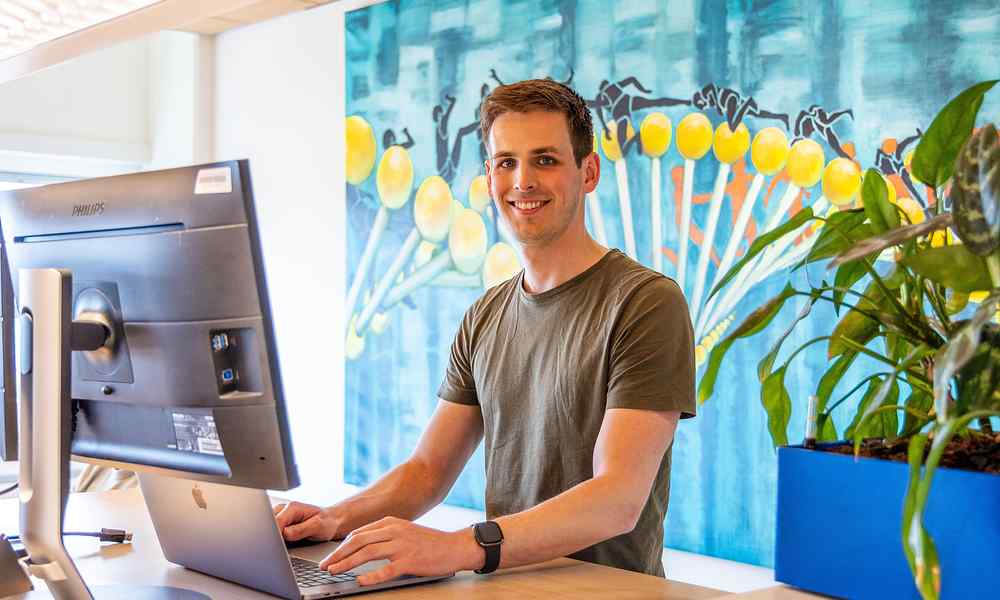 Humans have many different genes, and researchers are slowly figuring out what each of these genes do in our body. However for many diseases, it is not yet completely clear what genes are involved and what role they play. In his graduation research, Martijn Vochteloo worked on the MetaBrain project, where he used data science to help with this problem.
For this graduation project, Martijn followed on his interests and ended up in the MetaBrain project of the UMCG. 'This project aims to unravel the underlying genetics of psychiatric and neurodegenerative diseases. They do this by analysing the genes in human brain tissue and linking this to the different cell types.'
The problem with this analysis is that there are a lot of different cell types, and looking at all of them individually is expensive and labour-intensive. But Martijn found a solution: 'I made a model that could take a piece of tissue and find the genetic variants in different cell types without the need to separate those cells.' An important step, according to the masterstudent: 'If we find cell types that influence psychiatric or neurodegenerative, we have more specific targets for treatment.'
Martijn is glad he was able to help. 'I vastly enjoyed working on this project, it was the perfect combination of data science and genetics. And I had to directly implement and use the knowledge I obtained during the master's programme, so it was good practice.' It is also a testament for the way he has grown during the last years. 'Before I started this master, I knew how to use models and statistics but I never fully understood what was happening 'under the hood'. The curriculum of the master has given me a better understanding of how these tools function, and that makes it easier to apply them in my future career.'
But besides his expertise in data science, Martijn stresses he also grew a lot on other aspects. 'We got a lot of opportunities to work on our soft skills like writing and working in teams, and I definitely improved in those areas as well.' It would be advisable for future students to make sure they have some form of prior knowledge. 'Without a passion for both mathematics and programming, the master programme can be quite a challenge. For me the data science part was not easy because I lacked a background in mathematics. But as long as you really commit yourself you can always catch up.'
And he is not yet done with learning, or the MetaBrain project for that matter: 'I have accepted a position as a PhD candidate at the UMCG and will work on this project for a couple years longer.'
Feedback component
How satisfied are you with the information on this page?