Accelerate energy transition initiatives at a regional and (inter)national level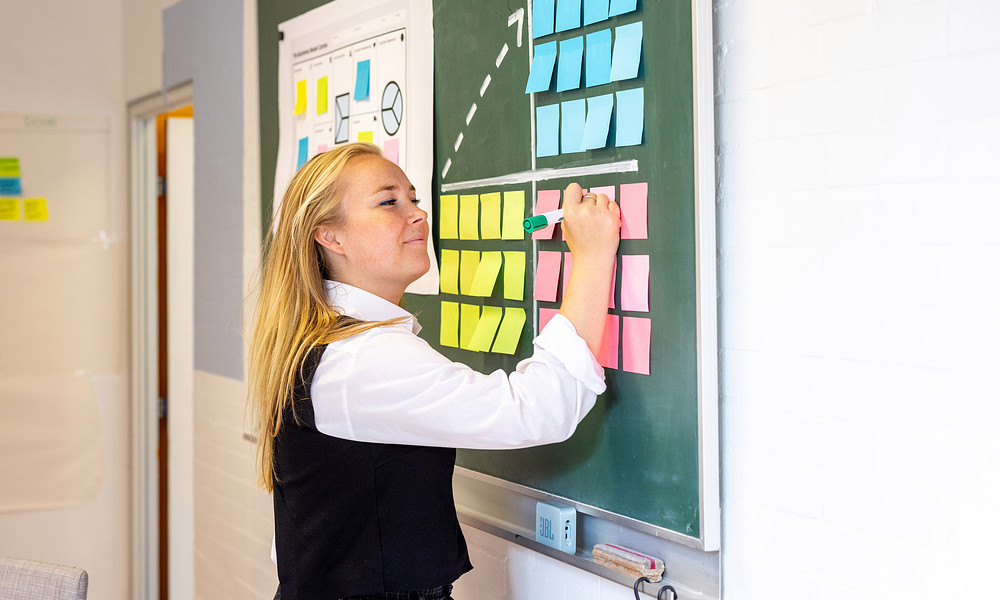 Energy for Society
Level

master

Form

full-time

Duration

3 semesters

Language

English

Locations

Groningen

Degree

Master of Science

Credits

90 ECTS

Startmonths

Start: September
Science and Engineering

Behaviour and Society

Language and Communication
Do you want to make a difference in realising energy transition? Are you the professional who helps communities make the transition from fossil fuels to renewables? Furthermore, will you get people on board to make this transition happen? Do you want to become the change agent who accelerates the energy transition on a regional, national and international level? Then this is the programme for you! What you will find:

✔ Multidisciplinary approach ✔ International learning community ✔ Real life clients and assignments
Projects with impact
During your master's, you will be involved with projects that combine working in research, education and industry. Through applied research you come up with innovative solutions for genuine societal issues. Below, you can find some examples of projects our master's students engage in.
We are Energy for Society
Sla over
Henmar Moesker

Programme manager Energy for Society

Wim Timmerman

Lecturer & Coordinator Graduation Programme

Elke Stokker

Education support Energy for Society
About this programme
You will learn to recognise your role as change agent and become an all-round, academically informed energy professional who understands the technological, economic, legal, social and environmental aspects that make the energy transition a huge challenge. You will not only learn how to solve technical and economic issues, but also how to deal with social and political issues that may arise during energy transition projects. You will encourage, facilitate and manage collaboration with and promote collaborations between communities, consumers, policy makers and other stakeholders.
Finding solutions and facilitating the energy transition does require strong social skills. That is why this programme has a strong focus on developing professional skills such as coaching, discussion, presentation and group work.
Why choose Energy for Society at Hanze UAS?
Multidisciplinary approach: You learn to look at energy transition challenges from different perspectives and contribute to solutions on a regional, national and international level.
Learning community: You work and learn in close co-operation with your peers from all over the world, professional practitioners, researchers and education staff.
High-end research facilities: The Energy Transition Centre (EnTranCe) and Energy Academy Europe (EAE) offer endless research, testing and cooperation opportunities, which current energy master give high recommendations.
Events and excursions: You will have the opportunity to join multiple events and excursions as part of your educational programme, such as visting a renewable energy power plant or visiting European Parliament in Brussels.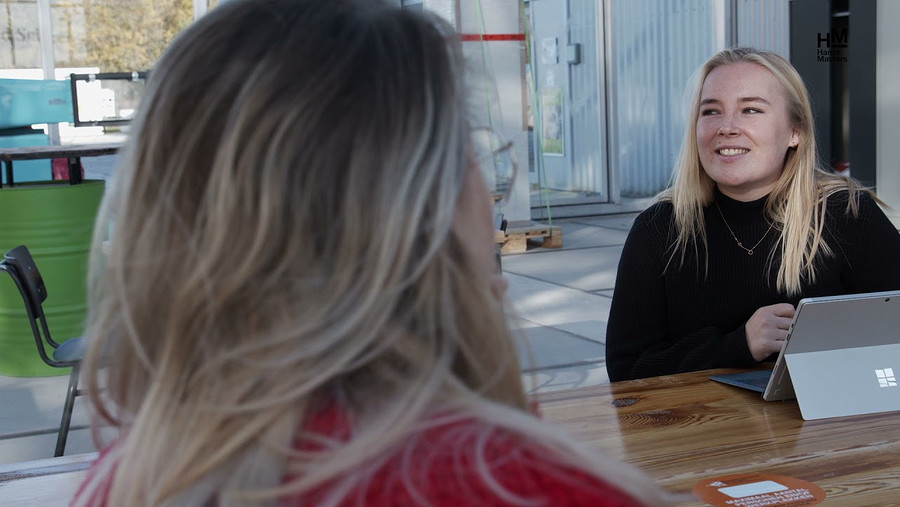 Joline and Marlous tell you about the master's programme Energy for Society
Course overview
First semester - Investigating the Energy Transition

You will get insights and an overview of the complexity of energy transition at various levels. You will look at the need for energy transition from a societal, technical, economical, political, legal and geographical perspective. You will follow courses, such as Politics for the Sustainable Society, Legal Aspects for the Sustainable Society, Energy Technologies and systems for the Sustainable Society and Economy for the Sustainable Society. You will also learn how to influence the behavior of stakeholders in relation to energy transition. You will apply the acquired knowledge and expertise of the first semester towards real-life projects, such as how to involve groups of low-income citizens in local energy transition projects.
Second semester - Making Energy Transition Happen

You will learn what it takes to actually make energy transition happen, by looking at energy transition from a multidisciplinary perspective. For instance, in the course Building Communities and Energy Landscapes, you will focus on the effects of energy transition on the environment and landscape and you will work on how people can be enticed to participate in the transformation process. You will also learn how to establish a public dialogue and address societal and political issues related to the energy transition. Next to the theoretical classes, you will apply your knowledge and skills to real-life cases, such as defining a strategy for implementing a local circular economy for a municipality.
Third semester - Graduation Project

You work on your graduation project. In this project you will have to demonstrate that you are able to act as a true transition strategist. You will approach a 'real-life' complex problem within a (local) energy transition context from a transdisciplinary perspective.
Admission requirements
Students with a Bachelor of Economics, Bachelor of Business Administration, Bachelor of Communication, Bachelor of Social Science, Bachelor of Environmental Science, Bachelor of Laws, Bachelor of Engineering or equivalent are eligible to enroll for this programme. Applicants should have a strong interest in the social and societal aspects of energy transition.

Students holding another Bachelor as mentioned above are also admissible to the master's programme if they can demonstrate that they have social or work experience with the energy transition.
Language requirements

When applying for this Master's programme, all applicants need to prove that they have achieved a sufficient level of English by submitting the original results from an IELTS or TOEFL test that is not older than two years at the moment that the academic year starts (September minus 2 years). Therefore, one of the following is required:
TOEFL: minimum score of 575 (paper-based test), or 90 (internet-based test, with not less than 20 in Reading, Listening, Speaking or Writing); or
IELTS (Academic): 6.5 minimum with not less than 6.0 in Reading, Listening, Speaking or Writing; or
Cambridge Advanced Exam in English: B minimum; or
Cambridge Proficiency Exam in English: C minimum.
Exempted from the above mentioned are:
Students holding a Bachelor qualification from the United States, Canada, Australia, New Zealand, Great Britain or Ireland are exempt from the language requirement
Students who have obtained a diploma at an English taught institution within the EER and who can prove that their prior education for which they obtained the diploma with which they can become accepted to the master, was fulltime English taught. In this case prove the English proficiency by uploading a statement, signed and stamped, from the university, confirming that the medium of instruction and examination of the prior education was entirely in English. The dean may seek advice from NUFFIC in such a case.

Hanze UAS reserves the right to check, both in the Netherlands and abroad, the authenticity of all documents submitted in support of applications.
General requirements
All applicants for the Master's programme Energy for Society apply through Studielink. Instructions on how to apply through Studielink can be found here. Candidates for admission should upload the following documents in Studielink.
A CV (resume) in English
A certified copy of your university diploma ('certified' means that the documents must bear the official university stamp to be considered valid)
A certified copy of your transcript of records
A reference letter
A motivation letter outlining why you wish to enrol in this master programme
A proof of English language proficiency (see above for minimum scores)
A copy of your passport
Application procedure
Application Review
Hanze UAS will review your application and will decide whether you are accepted or not based on the admission requirements. We aim at notifying students about whether or not they can be admitted within two weeks after receiving the application. If the application file is incomplete, your file may be put on hold or in some cases you may be provisionally accepted. You will need to hand in the missing document(s) to become fully accepted.
Letter of Acceptance
In case you are accepted we will send you an official letter of acceptance. You will be required to meet our enrolment requirements and you can start the procedure to apply for the various facilities that Hanze UAS offers.

Students who do not meet our admission requirements will receive a letter of rejection. In this letter it will be stated how to appeal the decision.

In some cases you may receive a letter of provisional acceptance at first. In this case you are not fully admitted yet. You still need to send your diploma and/or your language proficiency. Please be aware that you cannot enroll as a student until you have been fully admitted and you have received your final letter of acceptance.

For Chinese applicants: Application and delivery of an online Verification Report (CHESICC-DUO) Chinese applicants that are (conditionally) admitted can request an online Higher Education Student Record or a Qualification Verification Report via the CHSI archive as certified proof of their graduation diploma and transcript.

Click the DUO function to confirm the required verification report(s). An English version of the report(s) must be requested.

After applying to Hanze University of Applied Sciences the applicant will receive a student number. Applicants will need to input their student number and choose the Hanze University of Applied Sciences code (25BE) when sending an online report(s).
Application deadlines

Dutch applicants
Dutch applicants: August 15th
International Applicants
For applicants with either a EU or non-EU nationality you can find the current deadline on this page.
You can find the immigration deadlines on this page.
Tuition fees & scholarships
Tuition fees
The tuition fees are listed per academic year here. Please be aware that Energy For Society is an 18 months programme and that for the second year 50% of the yearly tuition fee will be charged.
Note: Students with a NON-EU/EEA nationality must be aware that on top of the tuition fee you will have to prove that you have enough financial means to live of. Please check the correct amounts of the financial guarantee under immigrations.
Scholarships
Hanze University of Applied Sciences, Groningen, has scholarships to grant talented students from non-EU/EEA countries. Please check here for more information about the scholarships that the master Energy for Society offers.
International Service Desk
The International Service Desk (ISD) assists students who wish to study for an exchange semester at a partner university. We help with the application procedure and practical information. The ISD also processes the applications of incoming exchange students from partner institutions who want to follow an exchange programme at Hanze UAS. We apply for visas and residence permits for all incoming students with a non-EU nationality, assist with the search for accommodation and provide information about insurances and other
Educational Support Energy for Society
Where will you be studying?