Develop your management skills in an intercultural business setting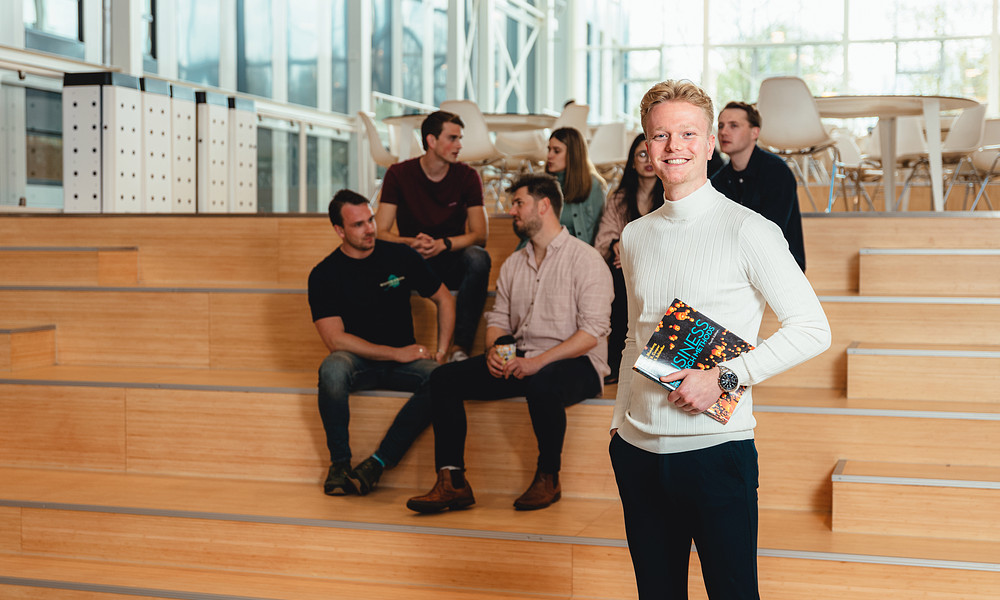 Master in International Business and Management
Level

master

Form

full-time

Duration

3 semesters

Language

English

Locations

Groningen

Degree

Master of Business Administration

Credits

90 ECTS

Startmonths

Start: September
Would you like to work in the management team of an international company or be part of a business team that is aiming for internationalisation? Are you looking to develop broader competencies for your future work as a manager? The Master in International Business and Management (MIBM) prepares you to work in a real international context, by gaining intercultural specific competences.
Projects with impact
During your master's, you will be involved with projects that combine working in research, education and industry. Through applied research you come up with innovative solutions for genuine societal issues. Below, you can find some examples of projects our master's students engage in.
We are International Business & Management
Sla over
Patrícia Duarte de Almeida

Head of Education IBS Masters

Egbert Dommerholt

Professor Biobased Business Valorization

Mariusz Soltanifar

Lecturer Marketing & Entrepreneurship

Alison Zikmund-Morrell

Admissions Officer & Management Assistant

Dzifa Gomashie

Educational Support Officer
About this programme
In the Master in International Business & Management (MIBM) programme you learn to solve international business issues from the boardroom perspective of an existing company, with significant practical and professional orientation towards international business. The programme truly applies professional knowledge and skills into practice. You will be working together with students and faculty from all over the world.
On top of this, the MIBM offers you the opportunity to obtain a dual degree, allowing you to study for one third of the programme at Anglia Ruskin University (ARU) in Cambridge, UK. Please note there are limited places available. After completing the dual degree programme, you will receive two officially recognised international master's diplomas.
Course overview
Year 1
Our overall educational concept is characterised by small group sizes and intensive contact between students and faculty. Next to lectures and workshops, you work both individually and in
teams on practice-based and experience-based projects and case studies. Within our Living Labs, you interact with the world of professional practice through guest lectures as well as through
seminars, real-life consultancy projects and company visits. Our teaching staff is selected to ensure an interesting mixture of business experience and expertise in applied research. Throughout the programme the integration between different knowledge areas is strongly emphasised.
Invitation to the Boardroom
In the business simulation game 'Invitation to the Boardroom' you and your fellow students will be invited to work on the boardroom case of a real company. We will set you up with a task and a real-life boardroom problem that you will have to solve in limited time, with limited resources and changing parameters. You will step into the role of a boardroom executive and come up with your strategic direction. This business game requires you to put into practice all that you have learned.
Watch this video (YouTube) to find out what the Boardroom looks like in practice!
Intercultural business setting
The concept of the boardroom gives every course a unique setting, which prepares you for complex decision-making in a dynamic international business environment. To create a business plan, get a go-ahead and begin implementation of the plan, you must communicate and cooperate with external stakeholders, as well as colleagues in all layers of an organisation. Therefore, this master's programme also has a strong focus on developing communication competences that you can apply in an authentic and multicultural business setting.
Year 2 (semester 3)
In the third and final semester of the Master in International Business & Management you will work on your master thesis. During the second semester you will select a topic and business setting for your thesis. In your thesis you will research a real question for a real client from a company or organisation.
Alison Zikmund-Morrell

Admissions Officer & Management Assistant